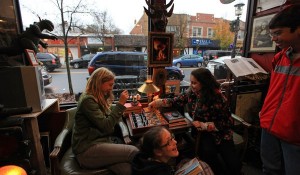 "It was like the least cynical place on earth," according to one customer quoted in the New York Times profile of Raconteur Bookshop, a sweet second-hand bookstore and theater space set to close in early 2012. The owner of this Metuchen, NJ shop is not losing his lease or being forced out by his landlord, instead he said he "still love[s] being here and meeting the people. But I feel like I don't want to be a shop clerk anymore. That's what it boils down to." A longtime bookseller myself, I sympathize with anyone who wearies of keeping a shop running day after day. At the same time, I love places like Raconteur and sympathize with the customers who feel bereft.
I recall one such place I frequented during a vacation in 1992 in Scotland. Located on the very special Hebridean isle of Mull, in Dervaig–a wee village that boasted the theatre with the smallest number of seats of any venue for plays in all Europe–it was called "Coffee&Books," just down the lane from the B&B where my wife and I were lodging. I was sitting on a stool in the shop on a Saturday morning just as its owners were setting off on a holiday to Venice. Several locals had assembled to see them off, as with a bit of ceremony the owners anointed Colin, a sheephish lad in his mid or late teens, as shopkeeper in their week's absence. Chiefly, this would mean brewing coffee and 'stuffing' the many weekend papers due to be delivered later that morning. The shop handled all the usual British papers–Telegraph, Daily Mail, Times of London, plus the Scottish papers, the Glasgow Herald, the Scotsman, and a few tabloids whose lurid front pages I had never seen. Turned out though, Colin really had his hands full. By noon that morning he was awash in a tangle of dozens of weekend supplements, funny papers, racy tabs and sober broadsheets. Things were looking a real mess. Customers began rolling in looking for their usual papers, ordinarily reserved under their name every weekend. Unfortunately, however, none were ready. At first a lot of kidding ensued as the regulars saw that Colin was overwhelmed. But as it became apparent to each new arrival that Colin wasn't finding any humor in his plight, they shed their sweaters and anoraks and got down on the floor with him to, at first find their own papers. But these regulars didn't just leave after assembling their own weekend reading, they helped Colin master the untidy piles all around him, sensing he was determined not to fail in the challenge that had been left in his lap.
Clearly, Raconteur Books and Coffee&Books had come to fill the vital role of a "third place" in the lives of their customers. The Wikipedia entry for Ray Oldenburg's influential book, Celebrating the Third Place: Inspiring Stories About the "Great Good Places" at the Heart of Our Communities, describes the third place as "a term used in the concept of community building to refer to social surroundings separate from the two usual social environments of home and the workplace. Oldenburg writes that third places are "important for civil society, democracy, and civic engagement."
Someone may still step forward to take over Raconteur. If not, sadly, its regulars will soon have to to find a new venue for their shared passions. Meantime, the spirit of cooperation that prevailed at Coffee&Books struck me then and since as a stellar example of a microcosm for a healthy society.
January 13, 2011–Update: In a tweet this morning, novelist and book critic Lev Grossman (@leverus) writes "The Raconteur bookshop in Metuchen, NJ is closing down on Sat night. I'm going to help them. By reading. Who's w/ me?" 
http://philipsturner.com/wp-content/uploads/2016/11/GGB_Logo.png
0
0
Philip Turner
http://philipsturner.com/wp-content/uploads/2016/11/GGB_Logo.png
Philip Turner
2011-11-29 09:57:00
2012-01-13 15:48:35
"Least Cynical Place on Earth" as "Third Place"