I posted earlier this week that I'd had a heads-up from Google Places NYC informing me that this blog and I are being featured in their Meet Your Google Neighbor program, which gives denizens of Gotham an opportunity to share online reviews of favorite restaurants, taverns, merchants, music venues, and bookstores, as well as educated comments about the best bike paths, picnic spots, urban beauty spots, and all manner of urban entertainments.
This afternoon I received the email blast that Google Places NYC sends out to all their subscribers with the announcement of each week's new Neighbor, and it's fun to see how they promote the fact that we New Yorkers relish sharing our favorite places with one another, and will give you a piece of our mind about them, given the chance. Below are  screen shots of that email, which I've begun to share with the venues I've recommended on my Google Places page.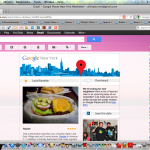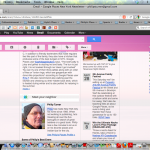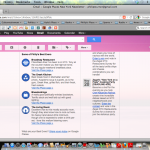 I've sent the email to The Living Room, the excellent club on the Lower East Side, with my write-up of a show I attended there last November–when Amy Helm, who sang with her father Levon on his Grammy-winning albums–sat in with the super alt-country Blackie and the Rodeo Kings. The Living Room's longtime owner Jennifer Gilson quickly replied that she was delighted I was on the record saying of her business "Excellent vibe to this mostly acoustic room, though they also know how to rock out here. . . . I love this mellow listening room." She asked me to say hello the next time I'm in the club and continue sharing reviews of shows I attend there.
I first learned about Google Places NYC last December when I attended an audacious event in the sumptuous lobby of the Jane Hotel in the West Village, where they–along with The New Inquiry, BOMB Magazine, ForYourArt, and New Directions Publishing–organized a public reading of the entirety of author Frederic Tuten's influential 1971 novel, The Adventures of Mao on the Long March. After the nearly four-hour long reading, The New Inquiry's Rachel Rosenfelt introduced me to Google's Esther Brown, who told me about the mission of Google Places NYC. When I wrote my blog essay about the reading I shared it with Esther, and we've been in touch since, with her encouraging me to start a Google Places page and begin writing reviews. This initiative of Google's is an excellent example of the creative sort of community building that can be done with cool tools on the Web.
From the time I began conceiving The Great Gray Bridge I envisioned the site becoming a virtual water cooler for the appreciation of urban life, books, music, and culture so it's really gratifying to see the blog gaining more recognition via Google's promotion. Happily, the Web feature includes a photo my wife Kyle Gallup recently took of our son Ewan and me on a boat ride around Manhattan with the Statue of Liberty as backdrop. It'd hard to be more New York than that!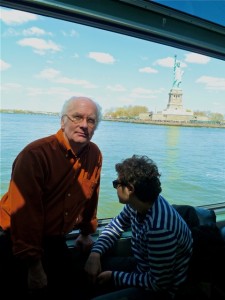 http://philipsturner.com/wp-content/uploads/2016/11/GGB_Logo.png
0
0
Philip Turner
http://philipsturner.com/wp-content/uploads/2016/11/GGB_Logo.png
Philip Turner
2012-04-26 21:43:10
2012-11-08 17:06:03
Happy to Be a Good NY Google Neighbor