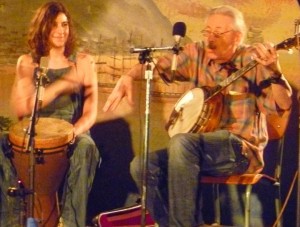 I was at the opening of the Brooklyn Folk Festival last night when the upcoming 100th birthday of Woody Guthrie was observed. There were a number of great performances and I'll be heading out there again later today for Day II. If you're looking for live music tonight this is going to be a great place to hang out. The venue is in downtown Brooklyn, at 345 Jay Street near Metrotech, very close to an A train subway stop. Highlights of Day I included, but by no means were limited to these memorable moments:
Hearing Ernie Vega and Samoa Wilson of Four Flowers sing Woody's "I Ain't Got No Home," whose melody seemed a close cousin to the equally classic, "Hallelujah, I'm a Bum," also the name of a 30s movie with Al Jolson;
listening to John Longhi read from his father's memoir, Woody, Cisco, and Me, that chronicles the time the three friends shared as merchant seamen during WW II;
listening to Greenwich Village 60s era folk stalwart John Cohen read from lists of hundreds of song lists that Woody catalogued alphabetically–all the songs that began with the letter 'H,' all that began with the letter, 'L,' etc. Woody knew hundreds of songs. It was like one of those extravagant lists that John McPhee likes to put in his long New Yorker pieces. I met Cohen after his reading and told him that what he read from Woody's notebook (John brought the original valise and notebook) was like a symphony in commas;
Finally hearing Peter Stamfels, leader of the psychedelic 60s jug band, The Holy Modal Rounders, who was in the house with his current group Ether Frolic Mob. They're a boisterous seven-piece outfit full of primal hoots and hollers led by Stamfel on banjo and fiddle and his daughter, Zoë Stampfel, who, seated near her dad, played the djumbe drum and really tore up the tracks. John Cohen also sat in with this assemblage.
Dennis Lichtman's Brain Cloud, who played inspired, hot, western swing, and had an amazing vocalist, Tamara Korn, who threw her voice in all sorts of ways, imitating other instruments in the band–clarinet, fiddle, pedal steel, lead guitar–twinning with them in her sweet, darting voice. It was something special to behold/behear.
As I posted on this blog a couple days ago, Eli Smith directs the festival, now in its fourth year, in coordination with a Brooklyn cultural institution called the Jalopy Theatre. I learned last night that up until a few weeks they believed the festival would be held in the same venue as last year, which included some outdoor space, but it suddenly became unavailable to them; fortunately, they found an alternate venue. It's a converted hardware store in downtown Brooklyn, which is quite spacious and conveniently located near the Jay St. stop on the A train. Eli and his cohorts did a fabulous job of converting the space and lending to it a theatre-like ambiance with stage lighting, maroon curtains all around the stage, and handsome murals evocative of old Brooklyn and New York harbor. They are to be congratulated for figuring all this out at the veritable last minute. Photographs that I took last night will be found below. It was a great night and I'm headed back later tonight, and possibly Sunday. I urge you to stop by for this fine example of homegrown, acoustic musical entertainment. // more. . . click through to full post for all photos
http://philipsturner.com/wp-content/uploads/2016/11/GGB_Logo.png
0
0
Philip Turner
http://philipsturner.com/wp-content/uploads/2016/11/GGB_Logo.png
Philip Turner
2012-05-19 17:49:03
2012-06-29 22:03:26
Celebrating Woody Guthrie at the Brooklyn Folk Festival