---
Update: The Obama Campaign jumped right on the AP story on Mitt's finances that I blogged about yesterday. Above is the video they've made about the issues raised by the story. It includes numerous statements from voters on Mitt's offshore money. In the statement accompanying the video campaign press secretary Ben LaBolt says,
"Yesterday's Associated Press story raises serious questions about whether Mitt Romney established a Bermuda corporation to avoid U.S. taxes and attempted to hide it from the public. According to the report, Romney transferred the mysterious corporation to a blind trust in his wife's name one day before taking office as Governor in order to avoid disclosure. In fact, he left this entity off of seven different personal financial disclosure statements he was required to file under state and federal law since 2001. We already know about Romney's $3 million Swiss bank account and millions of dollars of investments in foreign tax havens like the Cayman Islands. Bermuda does not tax corporate income or capital gains. Until Romney releases additional years of tax returns, the American people will never know whether he created this shell corporation to intentionally avoid paying U.S. taxes. What is Mitt Romney trying to hide?"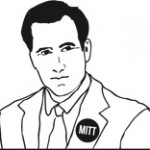 For my part, I hope reporters keep asking questions about the registered-in-Bermuda Sankaty High Yield Asset Investors, Ltd. Though it's a mouthful to say, I think this opaque Romney-owned investment vehicle could have a lot of resonance with voters.