Last winter, publishing reporter Sarah Weinman–who works for PublishersMarketplace.com and who writes for a number of other publications–asked me if I would try to help her with a story she was working on. Having learned that I attended Franconia College in the 70s, Sarah wondered if I had ever known fellow FC student, Peter Winston. he began in '75, I began in '73. His name didn't ring a bell for me, but Sarah continued and told me about more him, ultimately asking if I would put the word out among the old College community for anyone who might've known him. I agreed readily. Sadly, there was a dark and tragic background to her queries, and to the story. She explained that Winston, for a time a promising talent in competitive chess, burdened with a history of mental health problems, had in 1978 simply vanished, never to have been seen since. Foul play or misadventure were of course suspected by his family and authorities, but no trace or record of him has ever been found. He was a kind of modern-day Judge Crater.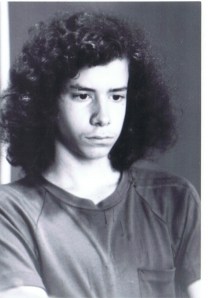 I put the word out on the Franconia College Facebook page, a 366-member strong group of former students, faculty and extended community members. Unfortunately, my request for information yielded not a single lead, which I told Sarah last March. She thanked me for trying to help, and went back to reporting the story through other means, and I made a mental note to watch her byline for the piece on Peter Winston. Yesterday, the result of her efforts appeared in the New York Observer, a fascinating 3,000 word article that was the last thing I read before falling asleep last night. Sarah also's blogged about the writing of the piece on her excellent tumblr, Off On a Tangent. The Observer article is haunting and sad–kind of a nonfiction counterpart to Queen's Gambit, the novel by Walter Tevis*, whose protagonist is a troubled female chess prodigy. Though Sarah's piece can answer few questions about Winston's disappearance, it asks many and is compelling reading, folding in a portrait of the chess scene in NY in the 70s, the milieu that produced Winston, and a character sketch of him. Publication of the piece may also produce some leads for Sarah, so I'm recommending that you read her story and share it widely among your contacts. Any Franconia College people who may not have seen my earlier call for information, please take note. If you knew Peter, or remember him, please let me know and I will put you in touch with Sarah.
I must say now as I keep looking at this photo, I believe I must have seen him at the College, his face and demeanor are somehow familiar, but I know I never spoke with him.
* Tevis clearly had a gift for writing about troubled, alienated protagonists, sometimes young. In addition to the chess novel, his last book, he also wrote the SF novels, The Man Who Fell to Earth (a classic film with David Bowie) and The Steps of the Sun (which I happened to publish in 1989), and the pool hall novels The Hustler and The Color of Money, also great movies with Paul Newman in both, and Jackie Gleason in the first. In 1983, when Tevis was on tour for Queen's Gambit he happened to stop in my Cleveland bookstore, Undercover Books and my brother and sister and I talked with him for an hour, on a blizzardy day. He died just a year later, in 1984. The Peter Winston mystery is one to which he would have definitely related–had it been reported in local news outlets, but according to Sarah Weinman, Winston's disappearance barely registered in local media, or even with NYPD, who she writes have "no record of anyone by his name disappearing from the city." Records for her piece were very sparse, with open requests to police and city authorities officially unanswered at this point.
http://philipsturner.com/wp-content/uploads/2016/11/GGB_Logo.png
0
0
Philip Turner
http://philipsturner.com/wp-content/uploads/2016/11/GGB_Logo.png
Philip Turner
2012-07-19 12:49:55
2012-08-27 14:19:35
A Vanished Young Chess Master