The great baseball writer, Robert Creamer died this week at the age of 90. According to the NY Times obituary by Douglas Martin, I am far from the only reader to have found his biography, Babe: The Legend Comes to Life (originally published in 1974), to be among the best sports books I've ever read. An excerpt from a review in Sports Illustrated is printed on the cover of the Penguin Sports Library edition from 1983, the one I read: "The best biography ever written about an American sports figure."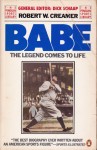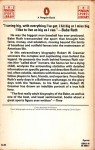 Two stories from the book have stayed with me all these years and I relate them here after being led to the exact page number in the book by the blog Unquiet Heart, where the proprietor is evidently also a fan of Creamer's 1974 book. Quoting then from page 186 in my old copy of the book:
"Invited by [a] Mrs. Adler to attend a benefit she was running, Ruth dutifully put in an appearance. "Mrs. Adler, beamed on the monied throngs who gently pressed around him, and helped make the affair a smashing success.  When it was over Mrs. Adler thanked him profusely for his time and effort.  The Babe waved his hand.  'Oh, shit, lady, I'd do it for anybody,' he said.
"Another time, he accompanied [baseball executive] Ford Frick to a formal dinner party.  Frick said that Babe would always move slowly at first when he was at affairs of this sort, watching, noting, finding out how you did things before doing them himself.  A rather splendid asparagus salad was served. Babe's eyes sidled around until he saw which fork was to be used.  He casually lifted the fork, poked at the salad and then without touching it put the fork down and pushed the plate an inch or so away in dismissal.
'Don't you care for the salad, Mr. Ruth?' his hostess asked.
'Oh, it's not that,' he replied, his voice elegant and unctuous.  'It's just that asparagus makes my urine smell'"
Creamer also wrote Stengel: His Life and Times, which I haven't read yet, but which I hope to someday.
http://philipsturner.com/wp-content/uploads/2016/11/GGB_Logo.png
0
0
Philip Turner
http://philipsturner.com/wp-content/uploads/2016/11/GGB_Logo.png
Philip Turner
2012-07-20 20:26:38
2012-07-20 20:27:17
Robert Creamer, RIP--Babe Ruth Biographer