---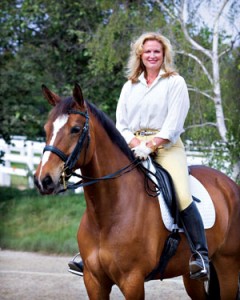 "Ann Romney stroked the nose of Magic, a Welsh pony. 'You're so pretty, Magic,' said Mrs. Romney. . . . When pressed. . . Mrs. Romney stood her ground. 'We have been very transparent to what's legally required of us,' she said. 'There's going to be no more tax releases given.' Mrs. Romney said if they release any more information, 'it will only give them more ammunition.' In regards to their finances, she said 'there's nothing we're hiding.' **
There's a lot to unpack in this brief segment from the interview Ann Romney has recently done with NBC.
1) Notwithstanding the implication she would prefer to be taken away from her claim, the Romney campaign hasn't yet released even one full year of tax information. Though most taxpayer's 2011 returns have long since been filed, they haven't yet released the most recent year. I don't know what they're waiting for. Moreover, for 2010–the one year they claim to have released–it was incomplete, as it lacked key filings the Romneys would have been obligated to make about their foreign bank accounts. The media should be making the point that claims aside, far from releasing two years, they haven't even done one yet.
I noticed that Paul Ryan tried doing the same thing in his 60 Minutes interview Sunday night–speaking about Mitt's two years of tax info in the past tense, as though they had already been released. Most of the attention for that part of the interview was paid to Ryan's admission he'd provided "several years" of returns for vetting by the Romney campaign; equally significant was the sleight-of-hand he tried on Mitt's taxes.
The media should be making the point that false claims aside, far from releasing two years, the Romneys haven't even released one yet.
2) Her claims of transparency are belied by the facts. Mitt has been opaque about everything from his years as governor of Massachusetts–at the end of which, he instructed staff to purchase and destroy the hard drives on their office computers–to the sealing of Salt Lake City Olympics records to their personal finances.
3) As a matter of logic, how can the voting public reliably ascertain that she and Mitt aren't "hiding" anything if they refuse to release more info? The Romney campaign has cited the supposed example of John McCain who as a presidential candidate released just two years of tax returns, but as a member of the Senate for many years, McCain had been filing detailed personal financial disclosures for a long time, and so an adequate paper trail already was available about him.
4) By stating that the release of more than two years of tax returns "will only give" the Obama campaign "more ammunition," Ann Romney makes it sound as if she and her husband are helpless weaklings unable to protect themselves from the schoolyard bullies in the Obama camp. Come on, Ann, that's what you've got your own bulwark of a campaign for! Buck up and deal with it. This is similar to Mitt's appeals to the refs (i.e., the moderators) during the Republican primary debates–when he felt stung by an opponent's criticism he'd ask the moderator– Wolf Blitzer in one instance–to intervene, claiming someone had violated debate rules. Observing this cowardly conduct, I thought at the time, "What a wuss!"
The Romneys are clearly hoping for credulous media to give them a pass on all their bait & switch tactics. One of the reasons I write this blog is to remind readers of mine who are also members of the media that they should not permit auto-pilot reporting to disguise this naked spin. Ann Romney puts up a gauzy front, shedding tears over the lovely Welsh pony Magic, but it's just an act in service of her husband's mendacious dissembling.
**If the subject of the Romneys' horses interests you, please see my earlier post on the topic, All the Romneys' Horses.
Note: The credit for the photo accompanying this post belongs to the publication Chronicle of the Horse.