Because I've edited & published a number national security books* containing sensitive information that ended up being vetted by government agencies before publication, I've been following the 'No Easy Day' situation carefully. Yesterday I shared a blog post, questioning how Dutton and Penguin could've been so careless in seemingly just accepting the pseudonymous ex-Navy Seal author Mark Owen's claim that a lawyer he'd hired had said his manuscript didn't breach any disclosure rules. If that is what happened–and there's a lot of murk here so one can't be sure–that's not the way publishing houses are supposed to deal with these books.
Today, another shoe dropped on the author. According to Bloomberg News, at a press conference today, chief Pentagon spox George Little told reporters, "Sensitive and classified information is contained in the book." It was a judgment I've been waiting to hear rendered since last Friday when it was revealed the Pentagon had sent the author a letter, saying his book may have violated national security. I guess they took the weekend to read it.
Another nugget in the Bloomberg article is that the author's attorney–Robert Luskin, defense attorney for Karl Rove in the Valerie Plame matter–claims his client's agreement with the Navy merely "invites but by no means requires" him to provide his manuscript for vetting, that he's not obliged to do so. Doesn't sound like any non-disclosure agreement I've ever heard of.
While the Pentagon warning about possible seizure of "royalties, remunerations, and emoluments" has been directed to the author, Penguin could also suffer, having heedlessly brought out an unvetted book deemed harmful to nat'l security, and then being forced to pull it from distribution, or even defy the government. More from the Bloomberg story on the Pentagon press conference.
In response to reporters' questions today, Little gradually toughened his statements, first saying the book contains "sensitive" information, and then saying it "probably" contains "classified" information before saying the Defense Department believes classified information is in the book and finally that it does contain such information. The Pentagon has consulted the Department of Justice about the book while reviewing all legal options, Little has said. "It is the height of irresponsibility not to have this kind of material checked for the possible disclosure" of classified information, Little said today. The need for a pre-publication review is "a no-brainer," Little said. "This is common sense."
*Among these national security books have been The Politics of Truth–A Diplomat's Memoir: Inside the Lies that Led to War and Betrayed My Wife's CIA Identity (Carroll & Graf, 2004) by Ambassador Joseph Wilson.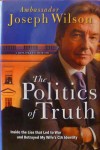 For his book, which came out more than a year before his wife Valerie Plame brought out hers (with Simon & Schuster), Joe asked the State Dept. to vet it, even though it had been a number of years since his retirement from the diplomatic corps. Another title, mentioned in yesterday's post, was On the Brink: An Insider's Account of How the White House Compromised American Intelligence by Tyler Drumheller, former chief of CIA clandestine operations, Europe.
http://philipsturner.com/wp-content/uploads/2016/11/GGB_Logo.png
0
0
Philip Turner
http://philipsturner.com/wp-content/uploads/2016/11/GGB_Logo.png
Philip Turner
2012-09-04 20:13:29
2012-09-05 11:09:39
What Were Editors & Execs at Dutton & Penguin Thinking?/Part II