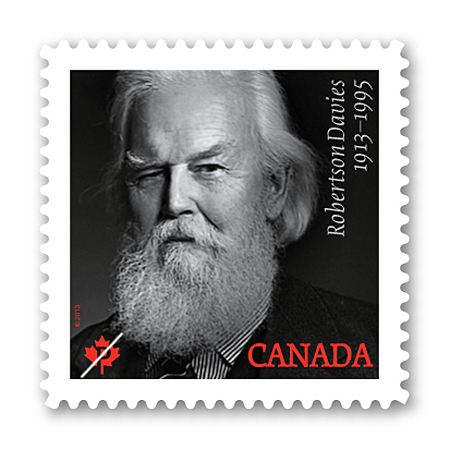 #FridayReads, Sept. 6–The many books of Canadian novelist Robertson Davies, which I have had the pleasure of reading and enjoying over the past 30 years.
August 28, 2013, was the 100th anniversary of the birth of Robertson Davies, the great Canadian novelist and all around man of letters. The Canadian postal service is marking the anniversary by issuing the stamp below. When I ran Undercover Books in Cleveland, Ohio, which opened in 1978, we introduced thousands of U.S. readers to books by Canadian authors, particularly including Davies.* We were doing so much business in his books at one point in the early '80s that I wrote Davies a letter c/o of his publisher Viking Penguin to let him know. He responded from ivied Massey College in Toronto, where he was a Don of Letters, and a pleasant correspondence between us ensued over a couple of years. Later, organizers of a writing conference at Case Western Reserve University asked me to invite Davies to a big meeting of theirs, but he declined, explaining he was averse to travel. The organizers asked me if I would instead speak on the combined experience of reading and selling Davies' books, an invitation I accepted. In my files somewhere is a transcript of the talk I gave and the letters I exchanged with Davies. I will dig them out someday soon and scan them for this site and my newly renamed tumblr, Hono(u)rary Canadian, where I've also covered the new Davies stamp.
If you haven't yet read Davies' work, I still recommend his books highly. Most readers start with his Deptford Trilogy, and its opening book, Fifth Business, which was first published in 1970, followed in the trilogy by The Manticore and World of Wonders. Their motifs are indelible painted in my mind, though I haven't re-read the books in more than 20 years: saints, snowballs, magicians, and freakish beauty. His earlier books–Tempest-Tost, Leaven of Malice, and A Mixture of Frailties–collectively known as the Salterton Trilogy, are also very enjoyable. His first break-out book, as a hardcover bestseller, was Rebel Angels, thanks in good part to the enlarged audience that my store, and other indie booksellers, brought to his books.
I'm really glad Robertson Davies is being remembered with this special stamp, which was announced at the Canada Post website and covered at Quill & Quire magazine. Below the stamp are photos of my copies of Davies' books.  Please click here to see all photos.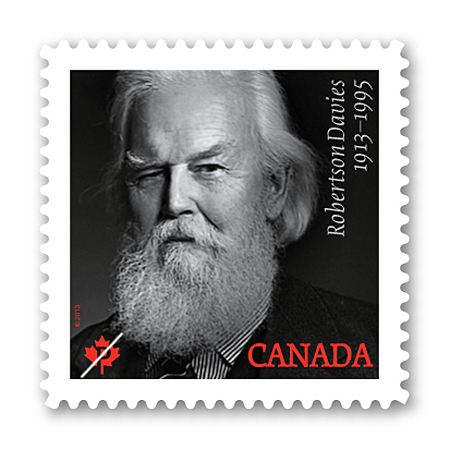 * In a page on this website devoted to my career, Philip Turner–Professional Background, under the heading "Hono(u)rary Canadian" I present more info on Canadian authors I've worked with:
As a native of the Great Lakes region, I have a keen affinity for Canadian books and authors, seeing the book world of the U.S.'s upper Midwest and Canada's southern tier (and one might argue, the whole of the Pacific Northwest) as contiguous literary cultures. As an Ohio bookseller, I introduced thousands of U.S. readers to such Canadian authors as Robertson Davies, Margaret Atwood, Mordecai Richler, Margaret Laurence, Timothy Findley Farley Mowat, and Pierre Berton. As an editor and publisher, I broadened that effort, publishing U.S. editions of books by Atwood, Richler, Mowat, Berton, and Dallaire, as well as Paul Quarrington, Antonine Maillet, Ken McGoogan, Julian Sher, William Marsden, Elaine Dewar, Bonnie Buxton, Howard Engel, Joan Barfoot, George Eliot Clarke, Steven Galloway, Stephen Strauss, Joel Hynes, Paul Anderson, Sheila Munro, and Jan Lars Jensen, among others.
http://philipsturner.com/wp-content/uploads/2013/09/Robertson-Davies-stamp.jpg
450
450
Philip Turner
http://philipsturner.com/wp-content/uploads/2016/11/GGB_Logo.png
Philip Turner
2013-09-06 11:47:50
2017-10-04 13:40:43
#FridayReads, Sept 6--Celebrating Robertson Davies' 100th