A fascinating article with photos in Gothamist.com by Evan Bindelglass, covering the history and restoration of the bridge that connected the Bronx and Manhattan beginning in 1842, an interboro link across the Harlem River that was built to bring fresh water via the Croton Aqueduct in to Gotham. The span connects 170th Street in the Bronx to 173rd Street in Manhattan. In a deliciously arcane example of NYC geography, Bindelglass points out, that's "West 173rd Street and not East," though this is the east side of the island, "Because it is technically west of 5th Avenue," the east-west midpoint of the island for road-naming purposes.
High Bridge has undergone numerous reconstructions over the decades. The current renovation–a joint project of NYC's Parks Department and the NYC Department of Design and Construction–will allow the deck to reopen to pedestrians and cyclists upon its hoped-for completion in June 2014. In a suggestion that would delight many New Yorkers, Bindelglass reports,
"Some are already hailing the High Bridge as another High Line-like project.

 'Long linear spaces [are] en vogue in New York City,' [said] Jennifer McCardle Hoppa,  Administrator for Northern Manhattan Parks for the Parks Department. 

As part of the project, the bridge deck will be restored and parts of it will be resurfaced. (An interesting thing to note is that the original stone arch portion of the bridge—and one stone arch remains on the Manhattan side—was surfaced in a herringbone pattern, but the steel portion was not.)"
My fondness for examples of New York City's maritime and industrial past is probably well-known to readers of this blog, especially for landmarks like the Little Red Lighthouse, which I toured last weekend. That's why I also appreciated this quote in Bindelglass's story:
"'Just the idea of that reconnection has tremendous symbolism, I think, for both communities,' says David Burney, Commissioner of the Department of Design and Construction. 'It's this piece of industrial archeology, this huge pipe system that was carrying water across and into Manhattan that we're preserving and keeping as a piece of history,' Burney says, 'We do a lot of bridge reconstruction. But this is very special.'"
I have ridden my bike in the neighborhood around High Bridge, and up to the High Bridge tower, which dominates the area around it on the Manhattan side. I look forward to seeing the renovation work completed next year. The work on High Bridge will give all of us access to another splendid city landmark. Meantime, I'm happy I can share this good piece of NY reporting, and one of Bindelglass's photos from his gothamist.com piece. The image shows the old deck, surrounded by orange fencing. High Bridge tower is in the distance, on the Manhattan side.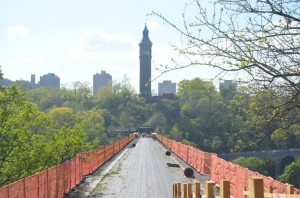 http://philipsturner.com/wp-content/uploads/2016/11/GGB_Logo.png
0
0
Philip Turner
http://philipsturner.com/wp-content/uploads/2016/11/GGB_Logo.png
Philip Turner
2013-09-17 19:25:50
2013-09-18 11:13:00
Restoring High Bridge, NYC's Oldest Span, via Gothamist