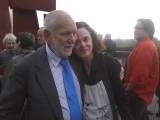 The news of Sir Anthony Caro's death last week at 89 was startling for me. I knew him for more than thirty years and wasn't prepared to say goodbye. The photo at the left was taken the last time we met, on the roof of the Metropolitan Museum of Art in 2011. From what I've read, he was busy working in the studio until he died. To so many artists, Tony showed abundant goodwill and an inclusive view of art and art-making. He conveyed a sense that we were all in this together. These qualities are what drew me toward him when we first met.
My initial encounter with Tony's sculpture came in 1980, at Boston's Christian Science Plaza where twenty-three works from his 'York Sculpture' series were presented by the Boston Museum of Fine Arts for the city's 'Jubilee 350' celebration. Later, I heard his commencement talk to the graduates from the Boston Museum School where I had enrolled as a transfer student and then tagged along as he gave critiques to more advanced students who were waiting in their studios to engage with him about their work.
What Tony offered to all those who came in contact with him was a way to think about art, and the process of creating, as something personal yet large and deeply connected to the world. Art for him was something indelible, permanent, and real. I believe this gracious view grew from his generous spirit and desire to make a contribution.
Tony had a clear and concise way of thinking about process and one's connection to art of the past in all its variety and its visual, expressive possibilities. He mined all kinds of art and culture, calling forth universal themes, reworking them and making them new. He conveyed this, not only through his work, but also in studio visits with other artists. He encouraged others to look at the world with an open mind, to engage and connect with it. His interest in sharing ideas made talking with him a pleasure, always lively and interesting.
I was fortunate to twice attend Triangle Workshop, the two-week summer residency that he founded in upstate New York. While working there, if an artist asked, he'd come around and make suggestions, never saying too much but hinting at possible ways of approaching a piece differently. Triangle spoke to his sense of art-making as a collaborative enterprise. Even though Triangle met for just two weeks every year, it was a way for him to foster community. The workshop allowed him to share his passion for exchanging ideas. He was keenly aware of the isolation artists feel because we spend so much time on our own in our studios, and he related to this personally. He may have felt this in his own life as a young artist working in England. He relished the opportunity to travel and make changes to his working methods after meeting American artists.
Tony encouraged me to write to him and his wife–Sheila Girling, a painter–in London to let them know what I was doing in my studio and what was being shown in New York galleries. I don't remember exactly what I wrote about in my letters, what questions I may have asked him, or the views of art I may have offered, but he always answered my letters with long thoughtful replies. I've saved his and gone back and reread them over the years, always surprised by his honesty about himself, and his kindness and encouragement to me. Below is a scan of a letter Tony sent me in 1983, lines from which I've borrowed for the title of this remembrance.
On trips to New York, Tony and Sheila visited me when I lived in Union City, New Jersey. It was way out of the way, but they somehow made it through the Lincoln Tunnel to my place there on Summit Avenue. They spent time looking at my work, bought pieces for their collection, and even enjoyed cubano sandwiches from the bodega across the street from my apartment. When I think of all the time and thoughtful support they showed me over the years, my sadness at his passing lightens. Anthony Caro spent his life creating art. He never tired of experimenting and sharing the richness of his experience with other people. I hope some day I will meet a young artist and offer the kind of open-hearted encouragement I received from him over the many years we were friends.
Kyle Gallup is an artist living and working in New York City.
http://philipsturner.com/wp-content/uploads/2016/11/GGB_Logo.png
0
0
Philip Turner
http://philipsturner.com/wp-content/uploads/2016/11/GGB_Logo.png
Philip Turner
2013-10-28 15:18:41
2013-10-30 09:18:41
"There's plenty of time…to take the difficult and slower route."—Remembering Anthony Caro, Guest Post by Kyle Gallup