Amazing Washington Post story by Richard Leiby on 1st-time novelist Barbara Scheiber, 92 years old, who in a 1928 Walker Evans photograph saw what she and other family members believe is her father, with his mistress. From this, and much more, she's written a novel, We'll Go To Coney Island, published last month by Sowilo Press. Evans was from what I've read unabashed about photographing unsuspecting people. he famously did it on NYC subways, with a camera secreted in the folds of his coat. He noted on the print, "Couple at Coney Island, N.Y., 1928."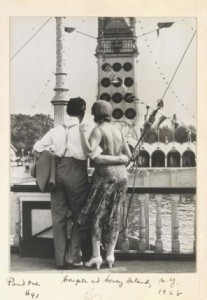 Congratulations to my friend and longtime author of mine Dave Scheiber, and his mother Barbara. Dave, a veteran journalist, co-authored former NBA referee Bob Delaney's two books, the memoir Covert: My Years Infiltrating the Mob (2008) and Surviving the Shadows: A Journey of Hope into Post-Traumatic Stress (2011). I edited and published the former and co-agented the latter.
In Barbara Schieber's bio I was interested to learn she grew up in the Washington Heights section of Manhattan, "where one of her joys was writing and putting on plays with neighborhood friends. She graduated from Vassar shortly after Pearl Harbor, joining two classmates in a plan to organize local community support for the war effort. Their work led them to Clarion, Iowa, where her writing about the success of their innovative project came to the attention of Eleanor Roosevelt, who invited the young women to dinner at the White House to describe their experience to President Roosevelt. She went on to write news reports and radio plays on the war's progress for United Press Radio, and later, produced a prize-winning series of radio plays for the Jewish Theological Seminary, broadcast on NBC."
Scheiber's intrepidity reminds me of the same trait exhibited that decade by my author and friend Ruth Gruber, who in 1940 was working as FDR's Interior Secretary Harold Ickes 'special representative in Alaska. For Gruber–who had become the world's youngest Ph. D. in 1931 at age 20 after writing the first doctoral dissertation on Virginia Woolf, and who had traveled to the Soviet Arctic in the late 1930s–one of her assignments in Alaska was to study the feasibility of the territory as a haven for American homesteaders. Later, when the FDR administration began promoting homesteading in the vast space as a serious option for Americans, Ruth was the person who answered the large volume of mail addressed to Eleanor Roosevelt about Alaska. Later, after Ickes selected Gruber to escort 1,000 WWII refugees and Holocaust survivors from Italy to the US by ship–history that Ruth covered in her book Haven, which was dramatized in a CBS miniseries in 2000, with a tie-in edition I brought out the same year–she hosted Eleanor at Fort Ontario in Oswego, NY, where the refugees were housed until the war ended. Ruth lives in New York City today. At 102, I suspect she is probably the oldest surviving member of the FDR administration.
Reading Leiby's story I was also reminded of another book about an inconstant father, The Duke of Deception by Geoffrey Wolff. Geoffrey's brother Tobias Wolff wrote his own memoir of the same family, from his perspective, This Boy's Life. Leiby's story makes We'll Go To Coney Island seem fascinating and I'm eager to read it.
http://philipsturner.com/wp-content/uploads/2016/11/GGB_Logo.png
0
0
Philip Turner
http://philipsturner.com/wp-content/uploads/2016/11/GGB_Logo.png
Philip Turner
2014-02-19 12:01:27
2014-02-19 12:42:26
Spurred by a 1928 Walker Evans Photo, Barbara Scheiber Publishes Her 1st Novel at Age 92