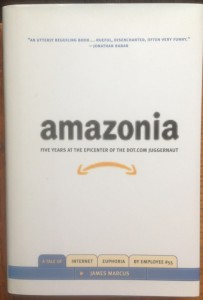 #FridayReads, April 4–AMAZONIA: Five Years at the Epicenter of the Dot.com Juggernaut by Employee #55, James Marcus's witty and winning memoir of working at Amazon from 1996-2001, which he published with The New Press in 2004. Having earlier this year read and written about Brad Stone's THE EVERYTHING STORE: Jeff Bezos and the Age of Amazon, which briefly cited Marcus's book, I also read Marcus's review of it in Harper's. I made a point to also read George Packer's February 2014 New Yorker articles on Amazon, "Cheap Words" and "Amazon and the Perils of Non-Disclosure." In the latter piece, Packer likens Amazon executives, secure in their Seattle redoubt parceling out only the most limited information about the company, to American officials during the Iraq War confined to Baghdad's Green Zone who only shared information that suggested the war was going great. I found this analogy quite striking, and suggested, that at least from Packer's perspective, things may not be going so well for the retail "juggernaut." Seeing that Marcus was a quoted source for Packer, Marcus's book has been squarely on my radar for a few months, so I'm glad now to have gotten a copy and begun reading it. It's immediately enjoyable, with Marcus chronicling the decidedly weird and geeky culture of Amazon and his first meeting with Bezos, when the Amazon founder asked him to "explain a complicated process in as simple a manner as possible." Humor is sprinkled throughout, as when he begins his new editorial job by writing a 45-word spiel on the seafaring novels of Patrick O'Brian.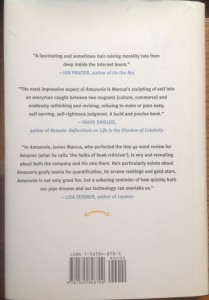 I'm also reading STET: An Editor's Life, Diane Athill's London publishing memoir spanning the end of WWII 40s to the 90s with Andre Deutsch Ltd. Athill knew and edited many great writers, including Brian Moore and Mordecai Richler for several of their early books. She recounts having also published Philip Roth's first novel, LETTING GO, which did well enough that they were going to make an offer on his second book, WHEN SHE WAS GOOD. I love the way she presents this embarrassment: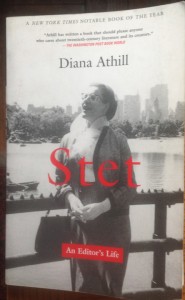 "[We] decided to calculate the advance on precisely what we reckoned the book would sell–which I think was 4,000 copies at the best–and that [offer] was not accepted. As far as I know WHEN SHE WAS GOOD was not a success–but the next novel Philip wrote was PORTNOY'S COMPLAINT.
This space represents a tactful silence."
These are illuminating and humorous recollections, gossipy but never malicious, coupled with a wise presentation of editing essentials. She's also a very endearing narrator. I heard a lot of good things about this publishing memoir when it came out in 2000, and bought it on a trip to a Bay Area publishing sales conference back then. I'm glad I've finally made time to read it.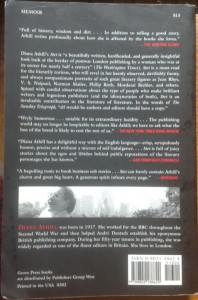 http://philipsturner.com/wp-content/uploads/2016/11/GGB_Logo.png
0
0
Philip Turner
http://philipsturner.com/wp-content/uploads/2016/11/GGB_Logo.png
Philip Turner
2014-02-21 12:51:44
2017-11-02 14:17:38
#FridayReads, April 4--A Week for Bookselling & Publishing Memoirs: "Amazonia" by James Marcus & "Stet" by Diane Athill