Good musical weekend unfolding. Tonight Kyle, Ewan, and I are going to a Pete Seeger tribute show at the Jalopy Theatre in the Red Hook section of Brooklyn. We enjoy the music and the community that surrounds the Jalopy, where one of the house bands is the Downhill Strugglers, a group that includes people who will be playing tonight, such as John Cohen, founding member of the New Lost City Ramblers, Eli Smith and Jackson Lynch. Smith is the founder of the Brooklyn Folk Festival, coming up soon on its sixth year April 18-20 at the Bell House. I hope to post some photos and a report later on about tonight's tribute to Pete Seeger.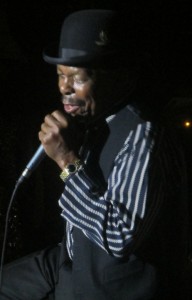 We kicked things off on Friday night when Kyle and I went to see rhythm & blues legend Lloyd Price, aka "Mr. Personality." The hitmaker behind such chart-toppers as the eponymous "Personality" and "Stagger Lee" began his performing career in 1949, as a singer with a band that included Fats Domino on piano. He will turn 81 on March 9. We were guests of our friends Mike Shatzkin and Martha Moran, who also invited two other old friends of theirs. One was Linda Davis, originally from Liverpool, England. She still has a charming accent, if not, she says, as pronounced as it was when she first came to the States in the '70s. She told us that back in the day she worked as a coat check clerk in dance halls where the local Liverpudlian music scene of the early '60s unfolded. She saw twin bills with Gerry and the Pacemakers and the Beatles. Imagine! Mike and Martha's other friend whom we enjoyed meeting was Tracy Young, a magazine writer. Linda and Tracy had also not met each other before then. All the ingredients were assembled for a great evening, thanks to Mike and Martha.
There was, however, a fly, or a flaw, in the soup: The venue stunk. It's called The Cutting Room, and it should be cut out of the address book of any live-music fan who expects a club to be run to a minimal standard of consideration and courtesy, with fair value for the customer. I won't even link to it because it really doesn't deserve your traffic, either the Web kind or walk-in. I will though link to its Yelp page where my friend Mike left his comment which begins "This is the worst-run club in my 47-year history of going out to hear live music in New York City." None of us will ever go there again. Fortunately, the company was first-rate and it was a special treat hearing the ebullient Lloyd Price, who moves around on stage, singing and performing with tremendous ease. Not only does he make it look easy, he does it all with great good humor. He put on a fun show with an excellent band that was so numerous on stage there were several horn players I never did actually see, given our partial view. Below is a youtube clip of his 1952 hit "Lawdy Miss Clawdy." Also, more of the photos Kyle and I took from our perch above the stage.
http://philipsturner.com/wp-content/uploads/2016/11/GGB_Logo.png
0
0
Philip Turner
http://philipsturner.com/wp-content/uploads/2016/11/GGB_Logo.png
Philip Turner
2014-02-23 16:17:03
2014-02-23 17:37:18
Celebrating Pete Seeger & Enjoying "Mr Personality"--a Music-filled Weekend in NY