Until reading this March 1 obituary by David Margolick about Lee Lorch I had not known about this brave man, or the vital role he played in ending racial bias in publicly-subsidized housing in New York City and the rest of the United States.
A WWII vet, Lorch came home from the war amid a nationwide housing shortage that was particularly severe in New York City. Then living with his wife Grace and daughter in what the NY Times reports Lorch called "'half a Quonset hut' overlooking Jamaican Bay in Queens," he applied to live in the housing complex of Stuyvesant Town then being developed on the east side of Manhattan by Metropolitan Life Insurance Company with generous subsidies and accommodations from the city. He learned that African-Americans were explicitly barred from living in the development, as Met Life's chairman Frederick Ecker told news media, "Negroes and whites don't mix. If we brought them into this development, it would be to the detriment of the city, too, because it would depress all the surrounding property." The Lorches and fellow tenants invited African-American families to come stay in there apartments as their guests, a move that drew Met Life's ire and threats of eviction.
As a result, Lee Lorch lost his job teaching math at City College, and was made unwelcome at other universities where he applied to teach, including Penn State, which hired and then fired him in less than a year. For a time, he and his family were in Little Rock, Arkansas, where in 1957 Grace famously comforted Elizabeth Eckford, one of the "Little Rock Nine," as she tried to attend Little Rock Central High School.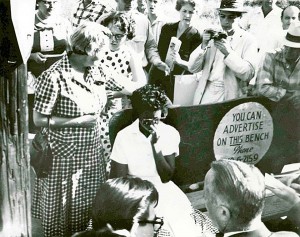 In addition, Lorch's unapologetic membership in the American Communist Party caused civil rights leaders, including Thurgood Marshall, to keep their distance from him. After years of erratic employment in the States, in 1959 Lorch was offered a teaching position in Calgary, Alberta, Canada, and later York University in Toronto. The Lorches emigrated and much like young draft-age American males of the Vietnam era, the Lorches found a new home and haven north of the 49th Parallel.
Lorch lived a remarkable life, and one that should be remembered. In addition to the March 1 NY Times obit and a 2010 article, here are other Web resources:
1) Video with a 2010 interview of Lee Lorch
2) A segment with Lee Lorch's daughter Alice from CBC's As It Happens, remembering her father and the family's life in Canada.
3) A review of David Margolick's book Elizabeth and Hazel, on Elizabeth Eckford, of the Little Rock Nine, and Hazel Bryan, a white woman who yelled at her as she tried to enter Central High School in 1957.
4) An Arkansas Times Web feature with lots more information on the Little Rock Nine.
http://philipsturner.com/wp-content/uploads/2016/11/GGB_Logo.png
0
0
Philip Turner
http://philipsturner.com/wp-content/uploads/2016/11/GGB_Logo.png
Philip Turner
2014-03-08 14:58:11
2014-03-08 23:20:22
Lee Lorch, an Exiled American Hero Who Found a Haven in Canada