Great story on how an indie musical instrument store's flourishing in New Hampshire's North Country, the White Mtns. http://t.co/kKGG8QRjSJ

— Philip Turner (@philipsturner) May 5, 2014
I was delighted to see this article in the New Hampshire Union-Leader, reporting on Northern Lights, in Littleton, NH, where my singer-songwriter son Ewan Turner has gotten one of his favorite guitars, a Fender acoustic. The store was founded by Dan and Moochco Salomon, two friends and classmates from Franconia College, where we all went to school in the 1970s. It's a good-news article by John Koziol emphasizing how the couple have managed, since 1978, to make the store in to a destination for musicians and avid players. They carry keyboards, drums, and other instruments, and really specialize with a fabulous guitar selection, with instrument prices that range from $100 to $95,000, the latter for a 1957 Gibson Les Paul Goldtop. They operate from a rustic wooden building they own that was erected in 1833, on Main Street of one of the most livable small towns in the eastern U.S., roughly equidistant from Boston, Portland, ME, Burlington, VT, and Montreal, Quebec. They carry many fine guitar brands, including Martin, Taylor and Santa Cruz, which has only sixty authorized dealers in the whole country, and benefit from what Koziol reports is, "according to the April 2014 issue of Music Trades magazine…a 'golden age' for acoustic guitars with the market for acoustics costing more than $1,500 up 40 percent in 2013 over 2012." I would add it seems to me a phenomenon similar to that which is fueling the renewal of vinyl's popularity as a format for recorded sound.
I'm very happy that this store operated by my friends Dan and Moochco is doing well, thirty-six years after they first opened their doors. It reminds me that yesterday, May 4th, was the thirty-sixth anniversary of the opening of Undercover Books, the indie bookstore chain that I operated from 1978-85 with my sibling and parents, and which still ran as an online book ordering service until my brother Joel's death in 2009. Congrats to Dan and Moochco, I hope to see them at Northern Lights sometime soon! Meantime, I invite you to see a picture of them in this screenshot from the article, and read it all via this link.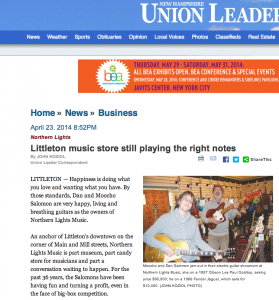 http://philipsturner.com/wp-content/uploads/2016/11/GGB_Logo.png
0
0
Philip Turner
http://philipsturner.com/wp-content/uploads/2016/11/GGB_Logo.png
Philip Turner
2014-05-05 19:18:57
2014-05-07 21:44:41
Indie Musical Instrument Store Flourishing 100s of Miles from a Big City