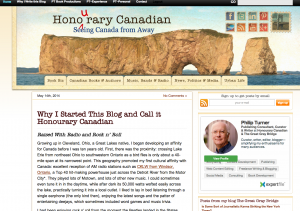 As readers of this blog may have noticed, I started a second blog in 2013, called Honourary Canadian: Seeing Canada From Away. After starting this blog in 2011, I was often posting about Canada, and a couple years in, decided to start a second site devoted to Canadian topics, where I'd offer my views of Canada for Canadians and others interested in the country. I aspire to the perspective and the work of Alistair Cooke, who broadcast and wrote knowledgeably and sensitively about America, after moving to the US from England. Like this site, at the new blog I write about Canadian books, publishing, live music, media, and politics, with the cross-cultural perspective of a respectful outsider. I've been sharing HC links here from time to time and integrating the two sites one with another, for instance setting up a feed so the latest posts from each site are readily visible and linked to on the other. The two blogs are sort of like siblings, with this one the older brother.
I'm posting here today to let Great Gray Bridge readers know I recently published a new entry at Honourary Canadian called Why I Started This Blog and Call It Honourary Canadian, which explores my lifelong interest in the neighbor to the north. I invite you to read it. It's a memoiristic piece that chronicles many trips I've made in Canada since childhood, beginning with Expo '67 when I was just twelve years old; authors whose books I've read and published; bands I've seen live and become friendly with; and reflections on differences between the US and Canada, and the media in both countries. Along with the essay, I've included dozens of scenic photographs, book covers, band photos, and scans of letters I received from Canadian novelist Robertson Davies, with whom I had a lengthy correspondence when I ran Undercover Books in the 1980s.
At the top of this entry is a shot of that new post, which will give you a sense of what the new site looks like if you've not visited yet. Just as I found a visual touchstone for this blog from a scenic landmark—the George Washington Bridge, aka the Great Gray Bridge, and the little red lighthouse—I found visual inspiration for the new site in a true wonder of the world, the majestic Percé Rock (aka le rocher percé or 'pierced rock'), a huge rock face on eastern Quebec's Gaspé Peninsula, a veritable lobster tail jutting in to the Gulf of St. Lawrence where it meets the Atlantic Ocean. Below is a pic of what that post looks like. If you enjoy awe-inspiring scenery, I recommend you check out the whole post, which includes many photos I took during a visit there in 1988. In fact, I invite you to visit Honourary Canadian, and have a look around.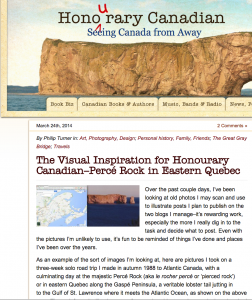 http://philipsturner.com/wp-content/uploads/2016/11/GGB_Logo.png
0
0
Philip Turner
http://philipsturner.com/wp-content/uploads/2016/11/GGB_Logo.png
Philip Turner
2014-05-21 13:26:54
2014-05-24 08:43:28
Taking a Page from Honourary Canadian