In a handwritten letter written last month, an Aliquippa, Pennsylvania oral surgeon, Dr George Visnich, fired a female employee, Carol Jumper—who had worked for his medical practice for twelve years—after she informed him she'd been diagnosed with "cancer affecting her ovaries, liver, and pancreas." Ever since my own brush with wrongful dismissal I pay special attention to accounts like this one, reported yesterday by Huffington Post. The doctor's attorney has since claimed that the letter was meant to make it easy for Jumper to qualify for unemployment benefits, and that the doctor intended to re-hire her once and if her treatment was successful. And yet, the letter is as curt and unfeeling as anything I've ever read. See for yourself: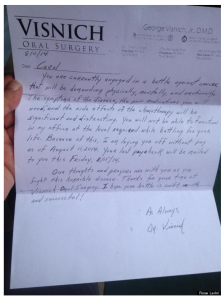 The letter, which I read as filled with eagerness to terminate her before she might cost the doctor an extra dollar in raised health insurance premiums, was shared on Facebook by a friend of the fired employee, resulting in much opprobrium for the doctor and contributions to a benefit fund for Ms Jumper. I detect bad faith on the doctor's part, with careful wording meant to protect him from the Americans with Disabilities Act, under which "current and recovering cancer patients are protected against job discrimination…so long as the individual is able to perform the job's essential functions." He wrote, " You will not be able to function in my office at the level required while battling for your life. Because of this, I am laying you off without pay as of August 11, 2014." He's evidently tried to absolve himself, by claiming that "this [would] make it easier" for Jumper to claim unemployment benefits, but I detect a convenient calculation behind his words—I believe they were meant to make things easier for him, not his long-serving, mortally ill, employee.
Local reporting on the incident explains that Ms Jumper did not ask anyone to put the letter on Facebook, and that she is focused on trying to get well, not on her former employer. She is probably not pursuing a legal case, which I understand, under the circumstances. Unfortunately, none of the reporting reveals what she's doing about health insurance now, but I assume she's been forced into COBRA to continue the coverage she had under her employer. No word in any of these stories, either, as to whether he offered her any severance or help with paying for COBRA. I have to assume he has not. Meanwhile, the doctor's lawyer says that the attention on the letter has been "very troubling" for his client. Gee, you'd almost think he was the one with cancer.
http://philipsturner.com/wp-content/uploads/2016/11/GGB_Logo.png
0
0
Philip Turner
http://philipsturner.com/wp-content/uploads/2016/11/GGB_Logo.png
Philip Turner
2014-09-12 22:00:08
2014-09-12 22:29:52
Annals of (Un)employment Injustice