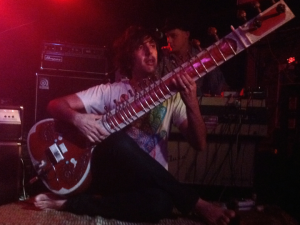 I had a great time at the Elephant Stone show at Mercury Lounge Tuesday night. It was the third time I've heard the Montreal band (I earlier wrote about them here), and they were in great form, with frontman Rishi Dhir and his crew really getting down on several psychedelic and funk jams. As cool as Rishi's sitar playing is, he's also a really great bassist, and plays it like a solo instrument. Meantime, bandmate Gabriel Lambert is a wizard on 12-string electric guitar. The result is the band's signature blend of soaring psychedelia, bright pop harmonies, thumping funk, and chiming guitar. If you'd like rock n' roll that sounds like the Byrds crossed with Indian influences check them out. Frontman Dhir (shown at right) has playfully dubbed their sound 'Hindi rock.' I hear echoes of the Byrds and the Beatles, though more psychedelic-ized than either of those giant groups. I got a copy of their new album The Three Poisons after the show. Also in the house was Mike Renaud, aka "Parkside," of Hidden Pony Records, which handles several of my favorite acts (like Rah Rah, Jeremy Fisher, Said the Whale, and Imaginary Cities) and Tyler Bancroft of the aforementioned Said the Whale, who was in NYC for a few days, then leaving to meet his bandmates for a StW show in Calgary. Parkside, Tyler, myself, and some new friends, Jillian Bordeaux and Michael, a colleague of hers from Caroline—a company that works with many indie music labels—went out for beers afterward.
Elephant Stone's current US tour continues tonight in Philadelphia, and tomorrow in Asbury Park, NJ, Sept 12 and 13. Details here.
Here are more pictures from the fun night.
http://philipsturner.com/wp-content/uploads/2016/11/GGB_Logo.png
0
0
Philip Turner
http://philipsturner.com/wp-content/uploads/2016/11/GGB_Logo.png
Philip Turner
2014-09-12 15:26:07
2014-09-12 15:48:15
Elephant Stone, Making Mind-bending Music at Mercury Lounge