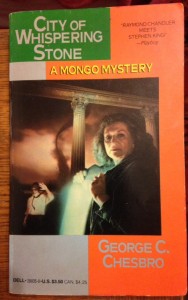 Continuing my theme from last week, today's #FridayReads is another mystery featuring Mongo the Magnificent, former circus dwarf turned criminology professor and private eye, in City of Whispering Stone, published in 1978, which I read that year, then ordered and sold in my bookstore, Undercover Books in Cleveland, Ohio. The plot of this novel—Book II in a series that would ultimately have fifteen titles—would have been very topical and timely at the time, as it concerns Iranian students in NYC, an Iranian circus strongman who is a member of the troupe that Mongo once performed in as a headliner, and the political fate of the Shah. In real life, this would have been during the Carter administration and amid the tumultuous revolution that ended with Ayatollah Khomeni and the mullahs in control of the country,when American hostages were held captive for 444 days in Tehran. The mullahs have hold power ever since. Chesbro must've had a keen line in to the Iranian expat community in the US, because of the depiction of the dissident students reads like a contemporary dispatch from the New York Times. In the novel, the performer/strongman has mysteriously vanished and Phil Statler, impresario of the Statler Brothers Circus, Mongo's former boss, hires the detective to locate him. The writing is great—noirish and tough, and very good at revealing the mindset of Mongo, an ultimate outsider who's never fit in anywhere in his whole life. Back in my bookstore days, I never read beyond the earliest books in the series, so in the weeks to come, I'll go back in the sequence and re-read Shadow of a Broken Man (1977, Book I), then move on to An Affair of Sorcerers (1979, Book III); and The Beasts of Valhallah (1985, Book IV), and perhaps others.
I do relish reading detective fiction and many different mystery series. As readers here may recall, I've written before about the novels of Michael Connelly (who created series character LAPD Detective Harry—short for Hieronymous—Bosch); Henning Mankell (Swedish police lieutenant Kurt Wallander); the late Tony Hillerman (Joe Leaphorn and Jim Chee), whose series was revived in 2013 by his daughter, novelist Anne Hillerman, introducing new series character, Bernadette Manuelito; Philip Kerr (Munich police inspector Bernie Gunther); John D. MacDonald (salvage expert Travis McGee); and J. Michael Orenduff (author of the POT THIEF mystery series, with protagonist Hubert Schuze, dealer in Native American ceramics). Last year, I wrote an appreciation of one of Mankell's Wallander books that can just as well apply to all of these series, edited for inclusion in this post:
Henning Mankell's thriller 2004 thriller Before the Frost, features Detective Kurt Wallander and his grown daughter Linda, who like he had earlier in life, elects to become a police officer. With surprising synchronicity, in Michael Connelly's Detective Harry Bosch novel The Drop, (my May 10th, 2013 #FridayReads), his young adult daughter informs him that she is going to choose police work for her career. I don't believe these two writers, one in Sweden, the other in Los Angeles, read each other's work or have directly influenced each other. Instead, I believe that these authors—who have each written ten or more books featuring their detective protagonist—become extremely invested in their characters and loyal to them, so that in their protean creativity, they endow the two characters—both late middle-aged single fathers—with full lives and late-in-life-joy from growing closer to their children. This highlights one of the things I love most about these books, Mankell's and Connelly's, as well as mysteries by other authors I enjoy, featuring characters Travis McGee, Bernie Gunther, and Joe Gunther (no relation to the former), by John D. MacDonald, Philip Kerr, and Archer Mayor, respectively: The author is so devoted to their creation that they give them full lives, and I as a faithful reader, become devoted to them, too.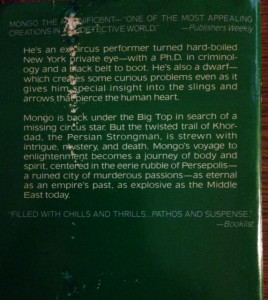 http://philipsturner.com/wp-content/uploads/2016/11/GGB_Logo.png
0
0
Philip Turner
http://philipsturner.com/wp-content/uploads/2016/11/GGB_Logo.png
Philip Turner
2014-09-12 23:36:05
2014-10-11 13:11:49
#FridayReads, Sept 12–George C. Chesbro's "City of Whispering Stone," w/Mongo the Magnificent