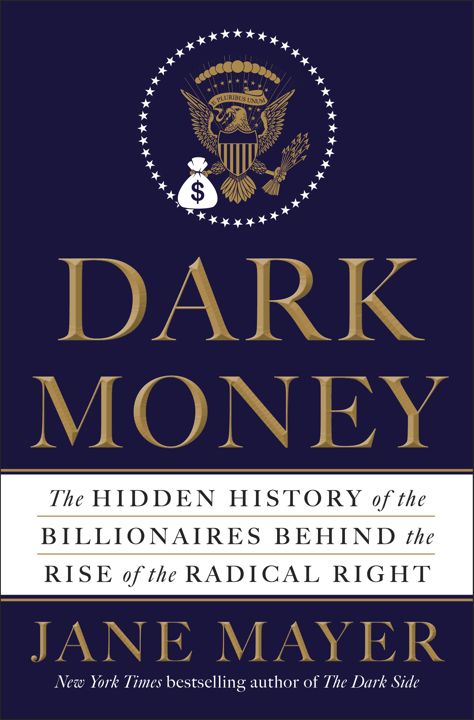 Wow, this is going to be a blockbuster book. Jane Mayer's latest, due out Jan 19th, is Dark Money: The Hidden History of the Billionaires Behind the Rise of the Radical Right. It's the subject of a NY Times news article tonight by Nicholas Confessore who must've gotten an early copy.  He reports on the collective portrait of rightwing billionaire families, including Richard Mellon Scaife, who before his death in 2014 spent more than a billion dollars of his Mellon family fortune pushing conservative causes; most notably, in the 1990s he harassed Bill Clinton through the infamous American Spectator magazine (see "Troopergate" if you need a reminder). I recall of this with firsthand memory because in the early 2000s I edited and published Susan MacDougal's memoir of the years she was pursued by Whitewater Special Prosecutor Kenneth Starr, The Woman Who Wouldn't Talk: Why I Wouldn't Testify the Clintons and What I Learned in Jail., whose probe was an outgrowth of Scaife's bankrolling Whitewater into a faux scandal. After discussing Scaife, the book examines an earlier brother pair, Lynde and Harry Bradley; and the DeVos family of Michigan. Apparently, Mayer then moves on to the bulk of her book, the Koch family. Confessore releases this explosive finding from Mayer's investigation:

"The book is largely focused on the Koch family, stretching back to its involvement in the far-right John Birch Society and the political and business activities of their father, Fred C. Koch, who found some of his earliest business success overseas in the years leading up to World War II. One venture was a partnership with the American Nazi sympathizer William Rhodes Davis, who, according to Ms. Mayer, hired Mr. Koch to help build the third-largest oil refinery in the Third Reich, a critical industrial cog in Hitler's war machine."

As editor, I also acquired IBM and the Holocaust: The Strategic Alliance Between Nazi Germany and America's Most Powerful Corporation (2001, Crown Publishing) by Edwin Black, and on this website blogged several times about The Collaboration: Hollywood's Pact with Hitler by Ben Urwand. I have an eye for these sort of titles, and I'm sure this one by Mayer will be fascinating, and important.

http://philipsturner.com/wp-content/uploads/2016/01/Dark-Money.jpg
720
474
Philip Turner
http://philipsturner.com/wp-content/uploads/2016/11/GGB_Logo.png
Philip Turner
2016-01-11 21:28:06
2016-01-12 18:15:09
Did the Koch Brothers' Help Dad Build an Oil Refinery for Adolf Hitler?