I'm excited to share the final cover, flap copy, and back ad for my agency client Ambassador Vicki Huddleston's Our Woman in Havana, coming out in March from Overlook Press, with a Foreword by former Secretary of Commerce during the second term of President George W Bush, Cuban-born Carlos Gutierrez. Publication will arrive a few weeks ahead of Raúl Castro's scheduled retirement from the Cuban presidency in April, the first time in more than sixty years that someone not named Castro will be Cuba's leader, a propitious moment for the book.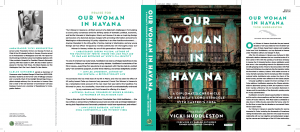 Amb Huddleston was the senior US official in Cuba from 1999-2002, and in this exhilarating memoir recounts the Elián Gonzalez custody saga from the perspective she had of it on the ground in Havana. She also chronicles many face-to-face encounters she had with Fidel Castro, who with his machismo was always eager for an opportunity to embarrass or berate this American woman representing his sworn foe. The perspective of a female diplomat at work for her country is an atypical one, Madeleine Albright's 2013 memoir Madame Secretary  notwithstanding. Co-author of a 2007 Brooking Institution report that was a blueprint for the Obama administration's normalization of diplomatic relations with Cuba, Huddleston writes about the unfortunate reversal of the Obama opening under the Trump administration, and her regret that the hardline policy may well drive Cuba in to the arms of Russia, China, or possibly even North Korea. She had a Letter to the Editor on this topic published in the NY Times last summer. At this time when the US State Dept is suffering an unprecedented exodus from the ranks of the foreign service, Huddleston will also speak on her book tour about what's at stake when America sends its diplomats abroad, and the impact when we retreat from full engagement with the world.
Among the blurbs on the back cover is this one:
"As someone who has lived most of my life in Miami, and who has seen the effect of US policy toward Cuba up close and very personal, I found Our Woman in Havana to be a remarkable inside account of the real news that was behind the headlines I've followed for years. As a bookseller, I know this book will be enthusiastically embraced by my customers and I look forward to offering it to them." —Mitchell Kaplan, founder of the south Florida independent bookstore chain Books & Books
If you're a bookseller or reviewer reading this post, and would like an advance copy, please let me know.
http://philipsturner.com/wp-content/uploads/2018/01/OWIH-final-jacket.png
988
2244
Philip Turner
http://philipsturner.com/wp-content/uploads/2016/11/GGB_Logo.png
Philip Turner
2018-01-22 21:44:14
2018-03-10 16:46:13
Previewing "Our Woman in Havana" by Ambassador Vicki Huddleston