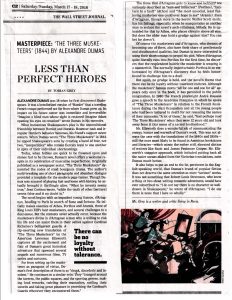 I'm delighted to see a superb review in this weekend's Wall St. Journal of my agency client Lawrence Ellsworth's new translation of Alexandre Dumas's The Three Musketeers. It appears in the print paper under the headlines "Less than Perfect Heroes," and to the left in a scanned mock-up of the review  Here are some of the choicest bits:
"A rip-snorting new translation of 'The Three Musketeers' by the American Lawrence Ellsworth captures all the excitement and flair of Dumas's great historical adventure that spawned several sequels and numerous films, TV series and cartoons….
Mr. Ellsworth does a wonderful job of communicating the energy, humor and warmth of Dumas's work. This was not always the case with the translations of the 1840s and 1850s—still the ones most likely to be found in American bookstores and libraries—which mimic the rather stiff, elevated diction of writers like Scott and James Fenimore Cooper. Mr. Ellsworth's snappier approach, which included putting back all the racier scenes elided from the Victorian translations, suits Dumas much better.
It also helps to put an end to the lie, persistent in the English-speaking world, that Dumas's brand of popular fiction does not deserve the same attention as more 'serious' works. It was not something that Robert Louis Stevenson, who knew a thing or two about writing romantic adventures, would have ever subscribed to. 'I do not say there is no character as well-drawn in Shakespeare,' he wrote of d'Artagnan. 'I do say there is none that I love so wholly.'"
This first new English-language edition of The Three Musketeers to come out in many years book is published by Pegasus Books, and is listed here on their website, with click-thru options to buy it if you wish. Their handsome hardcover edition—priced well at $26.95 for a volume that's close to 800 pages—includes an Introduction, Dramatis Personae: Historical Characters, and Notes on the Text assembled by translator Ellsworth, who also selected period illustrations by Maurice Leloir for the title page spread and chapter openers. It is also available in all ebook formats. Ellsworth is the translator of Book II in Dumas's Musketeers Cycle, The Red Sphinx, and editor of the anthology, The Big Book of Swashbuckling Adventure, both from Pegasus Books.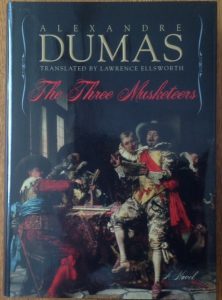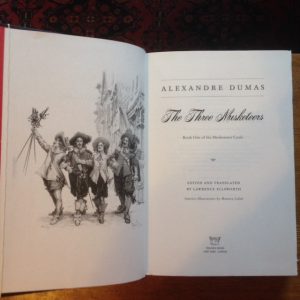 http://philipsturner.com/wp-content/uploads/2018/03/Dumas-Ellsworth-review-WSJ-3-17-18.jpg
1202
931
Philip Turner
http://philipsturner.com/wp-content/uploads/2016/11/GGB_Logo.png
Philip Turner
2018-03-17 14:52:53
2018-03-20 20:42:59
"A rip-snorting new translation of 'The Three Musketeers'"—Wall St Journal