As some readers of this blog will have noticed, I'm a huge fan of the historical detective novels by Scotsman Philip Kerr featuring his WWII-era Berlin police detective Bernie Gunther. The first, March Violets, was published in 1989, followed by The Pale Criminal and A German Requiem, the latter coming out in 1991. They became known collectively as the "Berlin Noir" trilogy. As Kerr explains in the above video from his website, he put Bernie aside for fifteen years to write other books, including the excellent dystopian thriller The Second Angel, before returning to him in 2006 with the gripping The One From the Other. With the April 2012 publication of Prague Fatale the Gunther series is now up to eight titles.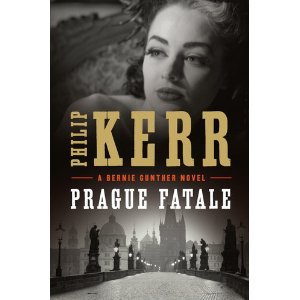 While the first three books proceeded pretty much chronologically from the early 30s through the war years, the last five books are more varied in their narrative structure. Now, Kerr often flashes back and forth between the pre-war period and the war itself to the postwar period–placing Bernie in ever more morally conflicted situations. We may find Bernie in Argentina in the late 40s, trying to keep his head down, but inevitably running smack into Nazis who've fled Europe, often men he'd known or had run-ins with back in the day; a prisoner under interrogation by American intelligence officials investigating Nazi war crimes; or in the company of mobsters in 1950s Cuba*, like The Godfather brilliantly reimagined. But always the narrative returns to Berlin, with Bernie working as part of the Kripo–the Berlin detective division whose operations become increasingly threadbare and corrupt as police resources and manpower inexorably flow to the war and all sorts of morally compromised scum seek haven working in the squad–or working as the house dick at the Hotel Adlon, a once-opulent now down-on-its-heels hostelry.
As is often the case in the Bernie Gunther books, Prague Fatale finds Bernie encountering a real-life figure from the Nazi era. In the new book he's under the unwelcome thumb of Reinhard Heydrich, SS-Obergruppenführer (a General) and chief of the Reich Main Security Office (including the Gestapo and Kripo), who assigns Bernie to protect him against a possible plot on his life. In her crime column last week, the New York Times Book Review's Marilyn Stasio called it "a locked-room whodunit" and the series, "endlessly fascinating," while in the Louisville's Courier-Journal reviewer Roger K. Miller wrote that he believes Kerr is the "absolute master of the genre; no one writing in English bests him, not David Downing or Jonathan Rabb, not even Alan Furst." He continues,
The accuracy and detail of time and place are exquisite — things such as slang, power relationships, views of everyday life—are deftly and unobtrusively worked into the narrative. Deeper than that is what might be called the morality lesson. At Bernie's core, he remains a once-and-future stoic white knight in the wisecracking Raymond Chandler mode, though life has thrown him blows to the physical, moral and emotional armor such as Philip Marlowe never had to face. Bernie, as ever, is appalled at what he has become. Heydrich, shortly to become the architect of the "final solution," is possibly the most ruthless figure in the Nazi pantheon of horror. . . . Yet Bernie's essential decency shines through even this Heydrich-suffused muck.Those who read closely will find further nuggets. As in Field Gray Kerr uses historical points to make contemporary ones; for instance, the SS torturers praise waterboarding as their most effective method. . . .Lovers of literature should learn to love Bernie. He could use it.
Aside from plotting and character, another thing about Kerr's writing is simply how enjoyable it is too read his sentences. Even when writing about the most arcane and detestable aspects of the Nazi regime, the writing is lucid, fluent, and filled with vivid image-making. If you enjoy reading detective fiction, or books about WWII, and haven't yet encountered the Bernie Gunther novels, I urge you to begin reading Philip Kerr. I treasure his work, and I believe you will too.
*In If the Dead Rise Not (2010), the sixth Gunther novel, Bernie becomes entangled with a killer named Max Reles, a corrupt American businessman colluding with Nazis building the 1936 Olympics facilities, all of them skimming huge profits from the contracting. Reles is every bit as evil as any of the Nazis who've ever crossed Bernie's path. In the narrative's flash-forward Bernie unexpectedly encounters Reles again almost twenty years later, in pre-Castro Cuba, and the reader learns that Max has come by his homicidal qualities by bloodline. In the novel, his brother was the real-life Abe Reles, aka "Kid Twist," nicknamed for the maniacal delight he took in strangling his victims. In Weegee-era New York City, Abe Reles made front-page news as a notorious New York mob turncoat who in 1941 turned state's evidence against his Murder Inc. confederates Lepke Buchalter and Albert Anastasio. Abe was only a few days into his bombshell testimony in front of a  Brooklyn jury, when after-hours, ostensibly under police protection in his Coney Island hotel, he was flung from a high floor, dead when he hit the roof below. Some said he may have jumped, though as it turned out, suicide made little sense, logically or forensically. The certain convictions and complete dismantlement of the mob died with him. Coincidentally, in 2008 I had edited and published a nonfiction book called The Canary Sang But Couldn't Fly: The Fatal Fall of Abe Reles, the Mobster Who Shattered Murder Inc.'s Code of Silence by Edmund Elmaleh**, so I knew Kid Twist's story well. Since reading If the Dead Rise Not I've checked and double-checked, and have found no evidence that the real Abe Reles had a brother named Max. I'm really taken with the inventiveness of Kerr in creating a fictional sibling counterpart to the vicious Kid Twist in his superbly imaginative novel.
**As an addendum to this admittedly lengthy footnote, I must add that late in 2008, just a few weeks before finished copies of Elmaleh's book were due to arrive at the offices of Sterling Publishing, where I was then Editorial Director of Union Square Press, I received word that the author had suddenly collapsed and died. Unfortunately, Eddie, as I had come to know him, never got to see a printed copy of what was his first published book. At least he didn't die by misadventure, as Abe Reles had. Finally, as it turned out for me, my time was almost up too, not in this life, but at that publishing house. In a big layoff two weeks in to January of 2009 I was relieved of my job, a milestone I have written about here on this blog, and which has permitted me much more time to read books like the Bernie Gunther novels.