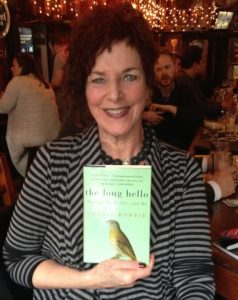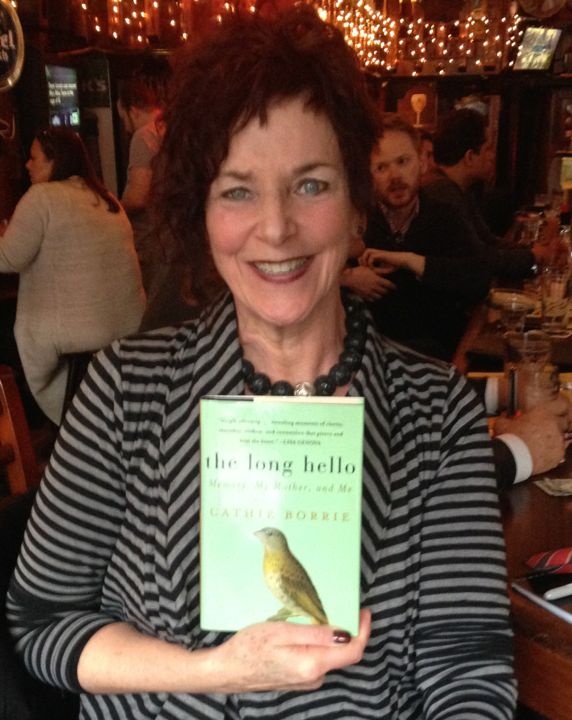 I've edited manuscripts for a number of author clients who at some point in the process have considered self-publishing as an option for placing their work in front of the public, though they sometimes hesitate over the uncertainty of whether a self-published book stands a chance to be discovered by readers and covered by members of the media. While not downplaying the challenges, I have been able to point out successes in fiction (not one of my authors, but Hugh Howey's WOOL series is a notable one), but I've not been able to do the same for nonfiction. Now I'm glad to say that thanks to an introduction from bestselling author, music journalist, and CBC radio host Grant Lawrence alerting me to the publication story of Vancouver, BC author Cathie Borrie, I now have a nonfiction success to point to. The book is The Long Hello: Memory, My Mother, and Me, which Borrie (shown here) self-published in 2010 when a curator with the Museum of Modern Art in NYC asked her to participate in the museum's lecture series on Alzheimer's Disease. She's since taken her book from a self-published title to commercial publication with Simon & Schuster Canada in 2015 (acquired by Toronto friend, editor and bookseller Martha Sharpe), and now with Arcade Books in the US (acquired by editor friend Cal Barksdale). As shown in the screenshot here of a Facebook event page, a theatrical-style reading will take place beginning at 6pm tonight at the Emily Harvey Gallery in NYC to launch the US edition.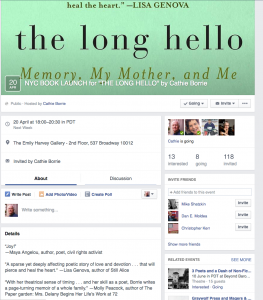 With Borrie in town this week, I met her for the first time, and heard about the background of her evocative and poetic book, which I'm currently reading and enjoying very much. As Borrie's mom became more and more in thrall to dementia, Cathie realized that what she said, despite coming from a place of confusion, nonetheless had a definite kind of lucidity to it. She began taping their conversations, and then used them when assembling her manuscript, contributing to a kind of verbal collage of their final years together. The process also prompted her to revisit her childhood years, and the recesses of their family life. Instructive for any self-published nonfiction author, it's also evident that over the years Borrie worked hard at getting her book into the hands of key influencers in the medical, home-care, and nursing worlds (it's also notable that Borrie trained as a nurse and has a Master's in Public Health). She also secured a one-word blurb from Maya Angelou, "Joy," that any author would love to have on the cover of their book.
Now, David Henry Sterry of The Book Doctors, like me, a book editor and blogger, has conducted an excellent interview with Borrie, examining the journey she's taken with her book. I suggest you read it, for the valuable insights that Borrie's gained from the whole experience. A screenshot of it is below, and you may click on this link to read the whole Q&A. If you're considering self-publishing as an option for your own work, I urge you to read The Long Hello and learn from Borrie's experience in the evolving book market.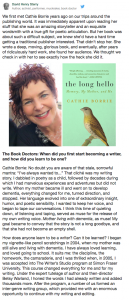 http://philipsturner.com/wp-content/uploads/2016/04/Cathie-Borrie-wThe-Long-Hello.jpg
720
572
Philip Turner
http://philipsturner.com/wp-content/uploads/2016/11/GGB_Logo.png
Philip Turner
2016-04-20 10:03:35
2016-04-22 11:03:10
Canadian Author Carrie Borrie, Taking "The Long Hello" From Self-Published Title to a Book Brought Out by Commercial Publishers