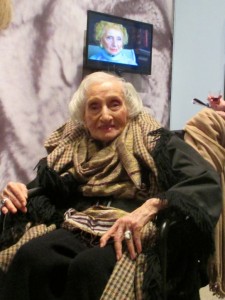 Kyle, Ewan, and I had a great time last night at the opening reception for an exhibit of Ruth Gruber's photojournalism at the JCC. This is essentially the same exhibit that was mounted in 2012 at the International Center of Photography, the year that Ruth was awarded the ICP's Infinity Award. If you're unfamiliar with Ruth's work, this show is a great way to begin. If you're not in NYC to go see it, this link will lead you to many of the images. If you're not familiar with her remarkable career, here's a primer:
Born in 1911 in Williamsburg, Brooklyn, Ruth was always precocious. She received her B.A. from NYU at age sixteen; an M.A. in German language and literature from the University of Wisconsin at eighteen; and at twenty was offered a fellowship to participate in an exchange program at the University of Cologne. Early in her studies there, in 1931, she was asked by a professor if she would consider reading the work of Virginia Woolf, and writing a doctoral thesis about her. I've imagined that Ruth's professors must have realized they had this bright female student in their midst, a reader of English and German who could tackle the Englishwoman's books and write about them, asking themselves when they might again have such an opportunity, especially with the inter-war years—which they turned out to be—increasingly fraught by international peril? Ruth demurred—she had not yet read Woolf's work, she could afford to be in Cologne only one year, her parents would not let her stay longer, the work would surely take more than a year—but soon, though she hadn't read any of Woolf's books when the professors asked her, she said, "I'll try." Taping up a picture of Woolf in her room, she undertook to read all of Woolf's books then published, pondering their meaning and the significance of Woolf's creative enterprise.
Despite the notoriety that her youthful doctorate brought her (she was heralded in the NY Times as the "World's Youngest Ph.D."), the Depression was in full swing and Ruth found little work upon her return to the States. She continued traveling and trying her hand at journalism and photography. In 1935, she was delighted when the thesis on Woolf was published as a book in Germany by the Tauchnitz Press, which had a list of English-language titles, including Woolf's The Waves. Ruth sent a copy of her thesis to Woolf in London, thus beginning a lengthy correspondence between the two women that culminated in Ruth paying a visit to Woolf at her Bloomsbury home in 1936 or '37. For more on this period of Ruth's life, including the meeting between the two women, you can also read my post, Virginia Woolf and Ruth Gruber, Driven to Create as Women her on this blog.
After her experiences in Germany, she won a Fulbright scholarship, which included attending a rally at which Hitler spoke, where the foreign students were seated very near him, she devoted an extended period of independent study to the examination of "women under democracy, fascism, and communism." She became the first Western journalist to tour the Soviet Arctic, and in 1937 published her second book, I Went to the Soviet Arctic, which she parlayed in to a new career as a public lecturer. In 1940, Ruth continued her association with the peoples of the polar regions when she became a member of the FDR administration, under Interior Secretary Harold Ickes who named her his special field representative for the territory of Alaska. She is doubtless one of the Roosevelt administration's eldest surviving staffers. She worked for the government off and on during and immediately after WWII, leaving at times to work as a foreign correspondent for the New York Post and the Herald Tribune. In 1944, Ickes assigned Ruth a mission she urged him to give her, that of escorting nearly 1,000 WWII survivors from Naples, Italy, on the Henry Gibbins, a ship that also carried wounded American troops back to the US. In 1947, she was working as a foreign correspondent when she covered the fate of the Exodus ship, and chased its thousands of stateless passengers all over the Mediterranean and central Europe the summer of that year.
To read more about Ruth Gruber's lifetime of humanitarian activism I recommend any of the six books I published with her, five of which are currently available in new editions from Open Road Integrated Media, whose executives Jane Friedman and Philip Rappaport were also on hand at the JCC. The titles I published with Ruth are 1) Exodus 1947: The Ship that Launched a Nation, Introduction by Eleanor Roosevelt biographer Blanche Wiesen Cook; 2) Haven: The Dramatic Story of 1,000 WWII Refugees and How They Came to America, which was adapted for a TV movie in 2000 (Foreword by Dava Sobel, author of Longitude, and Ruth's niece); 3) Raquela: A Woman of Israel, winner of the Jewish Book Award in 1978 (Introduction by novelist Faye Kellerman); 4) Ahead of Time: My Early Years as a Foreign Correspondent (also the title of a documentary on Ruth), Introduction by Vanity Fair writer Marie Brenner; 5) Inside of Time: My Journey from Alaska to Israel: My Journey from Alaska to Israel; and 6) Virginia Woolf: The Will to Create as a Woman.
I have written about Ruth several times on this blog, posts that are all illustrated with photographs by Ruth or of her: 1) Ruth Gruber's Photojournalism at Soho Photography; 2) My Friend Ruth Gruber, Pioneering Photojournalist; 3) Virginia Woolf and Ruth Gruber, Driven to Create as Women; 4) Celebrating Photojournalist & Author Ruth Gruber's 102nd Birthday With Her; and 5) Marking Photojournalist Ruth Gruber's 103rd Birthday. Below are photos I took at last night's reception, and photos I've taken of her book jackets.
http://philipsturner.com/wp-content/uploads/2014/12/Ruth-at-JCC.jpg
720
542
Philip Turner
http://philipsturner.com/wp-content/uploads/2016/11/GGB_Logo.png
Philip Turner
2014-12-10 11:17:48
2016-12-13 15:15:19
Appreciating Ruth Gruber's Lifetime of Humanitarian Activism and Photojournalism, at the JCC til Feb 25