I've long since quit keeping track of how many annual Book Expo conventions I've attended since Undercover Books opened in 1978; over the past 39 years I'd say I haven't missed more than five of these trade shows. I've written about many of them on this blog. Last year was a miss with the show in Chicago, so I was glad that the Javits Center on the west side of Manhattan was the venue once more for the 2017 rendition of the book industry's annual get-together. Though the show is diminished in attendance and book industry importance since the glory days when it was known as 'the ABA,' the period when the American Booksellers Association, the trade association of indie booksellers, owned and ran the convention. It was a great asset, but eventually they sold the show to a company that ran trade shows; currently, it's owned by Reed Exhibitions. Their management and the choices they make each year about the show is a topic of much discussion and some controversy among booksellers and publishers.
While registering on Wednesday afternoon, May 31, I was startled to see #TrumpRussia figure Carter Page in line after I'd registered, which prompted some quick picture-taking and tweeting from me before my first event. As I was that afternoon, I'm still very curious about what he was doing at the show. Hoping to sell and publish a book? Or, perhaps he already has one in the works? I figure it was one of these—why else would he attend Book Expo? Maybe he hopes to take the same route that the guy who goes by Milo has announced he'll do: self-publish. And yet, if he's gonna tell his story, I imagine the congressional committees and Special Counsel Mueller would want to hear it first. That could set up a constitutional struggle: Page's interest in exercising his free speech rights versus the legislature's and the law's interest in exercising their key oversight and criminal prosecution authorities. I love Book Expo for this—you never know who you might see next! One year, I saw former FEMA Commissioner Michael Brown ("Brownie, you're doing a heckuva job", courtesy George W. Bush) just a year or two after Hurricane Katrina.just a year or two after Hurricane Katrina.
After arriving @BookExpoAmerica I looked around&saw #CarterPage checking in after me. I bet he's done a book, or doing one. #TrumpRussia pic.twitter.com/bL6INBQApZ

— Philip Turner (@philipsturner) May 31, 2017
…though Congress&Rbt Mueller may have dibs on hearing it first. Spotted him w/ @bookmarkg pic.twitter.com/B00Ouk5kIQ

— Philip Turner (@philipsturner) May 31, 2017
The fair's kickoff event, held before the show floor would open the following morning, was the Editors' Buzz Panel, where each year six editors are invited to talk about the one book they're bringing out in the coming months that has them and their publishing house colleagues most excited. In past years, while the lineup always skewed heavily toward fiction—a product, I guess, of the notional that novels lend themselves to hand-selling by booksellers more readily than nonfiction, not an idea I endorse—there would usually be at least one or two nonfiction books among the novels. Not so this year, when it was six novels, one after another, with each editor being introduced at some length by moderator Annie Philbrick, co-owner of Bank Square Books in Mystic, CT, and Savoy Bookshop & Café in Westerly, RI. I'm sure all the novels are worthy, but the program choice led, in my opinion, to an at times leaden and repetitive recitation of plot points, reading of blurbs, and comparisons to other novels, that lasted one hour and fifteen minutes. The other issue I had with the program was the exclusive predominance of big-house publishers, (e.g., three titles from imprints at Penguin Random House, one title from an S & S imprint, one from Hachette, and one from Harper), with no mid-sized majors or indie presses in the mix. Are we supposed to believe there were no worthy titles from among publishers like Grove Atlantic, Norton, Algonquin, Graywolf, Counterpoint, Beacon Press, Other Press, and others of their ilk?
Of the six novels presented (each  mentioned here), I found myself most interested in possibly reading The World of Tomorrow by Brendan Matthews, a first novel set in NYC during the 1939 World's Fair, and The Immortalists by Chloe Benjamin, the conceit for which is that a fortuneteller can tell characters the very day they'll die. The whole program would have flowed much better with some adjustments and variation, including briefer presentations by the editors (some seemed stretched to fifteen minutes, which would never be tolerated at a sales conference) and by injecting some narrative nonfiction in to the mix. After the last presenter finished, there was a mad scramble of people rushing to the back of the room to get ARCs of the six books, but it was so intensely crowded, I felt someone could've been trampled. Surely, there must be a better way to distribute the reading copies than a mad scrum that has people gasping for air! I hope the Buzz Panel programmers take note of these points for next year's panel.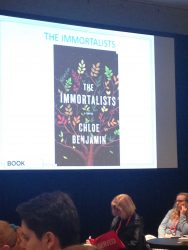 After hours, Book Expo always offers action, and this year was no exception as the sales rep group Parson Weems Publisher Services celebrated its 20th anniversary as a company with a delightful bash at the Landmark Tavern, near the Javits Center. PW sales reps Chris Kerr, Linda Cannon, Eileen Bertelli, and Jason Kincade were great hosts and I enjoyed drinks with many people there in the back room of the tavern, with the late afternoon light fading to early evening as the party unfolded, and the good ale they serve. Glad I could introduce my brother-in-law Ev Taylor to many old friends at the party.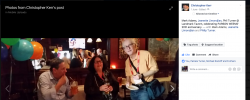 The convention floor opened the next morning, and thanks to the MTA's new subway stop for the #7 train at Tenth Ave and 34th St (which has the steepest, most vertical escalators I've ever seen in NY's subway), I was right on time for my first meeting of the day. Chance encounters also quickly bloomed, as I bumped in to old and new friends like John Whelan of the superb gift book publisher Cider Mill Press; Tom Nevins, longtime member of the Random House sales force; B.J. Berti, Senior Editor for crafts and illustrated books, St Martin's Press, to whom I was introduced by another old friend, Mike Shatzkin, one of whose new ventures, OptiQly, was being introduced at Book Expo; Peter Costanzo, digital publishing specialist for the AP; Kevin and Spencer Williams, Talonbooks, Vancouver, BC, who are clients of Consortium, a distributor that's especially good with literary lines, were excitedly sharing with booksellers copies of one of their lead books, Anima; Rob Sanders, Greystone Books, Vancouver, BC, who had a big hit this year with The Hidden Life of Trees, which he's following up this fall with The Hidden Life of Animals; and Herb Simon, Chairman Emeritus of the group that owns Kirkus, with whom I discussed the NBA, since he's principal owner of the Indiana Pacers; George Greenfield, literary and lecture agent, who I chatted with in the crowded aisle in front of Hachette's stand; Michael Korda, who's publishing a new book with Liveright, Alone, an historical chronicle on the 1940 evacuation from Dunkirk, which he experienced firsthand as a 6-year old child.
I had prepared a memo that outlined all the current projects I'm agenting, and was pleased in several of my meetings with publishers and editors to register interest for the proposed new titles:
Dirty Windshields: A Canadian Rock n' Roll Band's Misadventures Across the USA and Beyond, CBC broadcaster Grant Lawrence's hilarious and heart-tugging book about his years as frontman and lead singer of the breakthrough punk band, The Smugglers
The Lust Club: Confessions of a Prada Model, a one-of-a-kind memoir by a male fashion model;
The Twenty-Ninth Day: A Dangerous Journey in the Canadian Arctic, a wilderness survival story the center of which was the grievous mauling by a grizzly bear suffered by the author
Ten Garments Every Man Should Own, by Toronto writer Pedro Mendes, publisher of The Hogtown Rake menswear blog;
A book about the development of Rap music through the history of sampling, Bring That Beat Back, and another music title by a true pioneer of electronic and hip-hop music;
How Horses Help us Heal: Reports from the Field, a deeply spiritual book about equine therapy that surveys the many equine therapy centers in the US;
Crash Test: How an Automaker Evaded Accountability, a corporate whistleblower's account of a company's lethal malfeasance;
Macoupin, a novel of the American prairie spanning 1800 to the near-present, by Jack Heinz. "Caste and class are most subtly yet vividly described in prose as spare and suggestive as an Edward Hopper landscape."—Ward Just
It was exciting to represent these books and authors at Book Expo.
I got in an autograph line to meet Mira Bartok, whose earlier book, a memoir set in Cleveland about her schizophrenic mother, called The Memory Palace, I had found very compassionate. So did the National Book Critics Circle, which gave it their memoir prize in 2011. Her new book is a departure, a YA fantasy novel called The Wonderling. I also stood in line a while to get a book signed by actor William Daniels, who played Dr Craig in "St Elsewhere," and had a memorable role in "A Thousand Clowns" with Jason Robards, Jr. Little did I know how hugely popular he is, so after some time waiting, I exited the very long line, but first got a picture of him signing his acting memoir, There I Go Again. Later, I did hang on in a shorter line long enough to meet Brooke Gladstone, longtime co-host of one of my favorite public radio programs, "On the Media," author of The Trouble with Reality: A Rumination on Moral Panic in Our Time, a copy of which she signed for me. I also stood in line for novelist Mark Helprin, who as a younger author back in the day twice traveled to Cleveland for successful events at Undercover Books, for his outstanding early books A Dove of the East and Winter's Tale (the latter for an event that drew hundreds of people in 1983). On this occasion, I had scrawled my name on a post-it note, as the publisher's representative asks so an author doesn't have to guess or hear correctly how your name is spelled; Mark did something of a double-take when he read my name, and looked up at me. We shared a rush of remembered friendship, as Mark and I had exchanged letters years ago about his books and our lives. My sister Pamela had met him once during a visit she made to New York City. He knew my black Lab Noah, who readers of this blog will recall I have written about here. We had a pleasant reunion there on line, even while people behind may've been wondering about the hold-up. I look forward to reading his new novel, from Overlook Press, Paris in the Present Tense. I also went out of my way to find Carol Bruneau, whose publisher Nimbus brought her down from Halifax, Nova Scotia to promote her forthcoming short story collection, A Bird on Every Tree. In the early 2000s I published her first novel, A Purple Thread for Sky, about the enduring legacy of an old family quilt. Carol and I had a sweet reunion, talking about Canadian books and writing, and our mixed-up modern world. I'm reading the opening story in the new book, "The Race," about a long distance swimming competition, and am reminded anew that Carol writes enormously enjoyable sentences. Her new book will officially be available in September, and can already be pre-ordered from the Canadian book chain, Chapters. I know many readers of this blog will savor her writing.
Wonderful reconnecting @philipsturner US publisher of my 1st novel–thx for kind words re #ABirdOnEveryTree & thx to @NimbusPub #BookExpo https://t.co/ftMj2Yz0Vb

— carol bruneau (@carolbruneau) June 4, 2017
I got a lot of pictures over the three days of the Book Expo. Here are some of my favorites.
http://philipsturner.com/wp-content/uploads/2017/06/1-Carter-Page-.jpg
2279
1114
Philip Turner
http://philipsturner.com/wp-content/uploads/2016/11/GGB_Logo.png
Philip Turner
2017-06-04 16:45:49
2018-01-10 22:14:18
Enjoying Many Happy Reunions & First Meetings at Book Expo 2017