December 15 Update: Just after publishing the post below, the fine radio program CBC Sunday Edition carried a lengthy interview with Roméo Dallaire which I linked to on the sister blog to this one, Honourary Canadian. It was a very moving conversation.
—–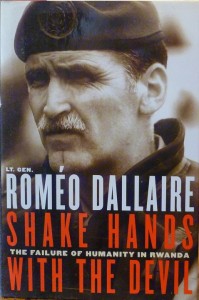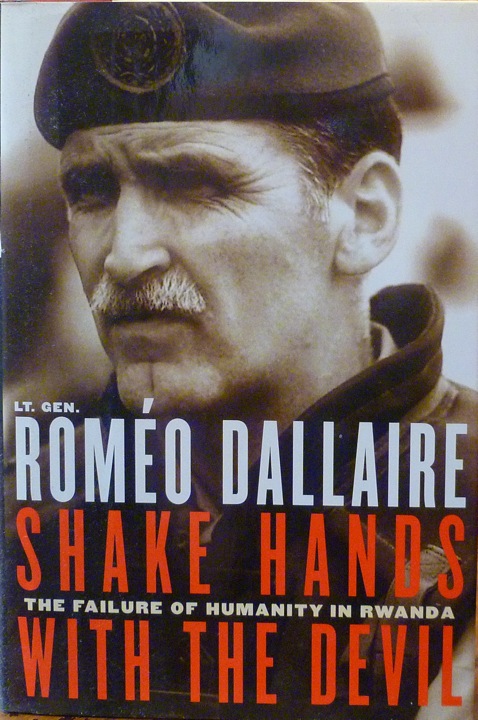 In 2005 when I was an editorial executive with Carroll & Graf Publishers of the Avalon Publishing Group I brought out the U.S. edition of a Canadian bestseller, Shake Hands with the Devil: The Failure of Humanity in Rwanda. Its author was Lt. General Roméo Dallaire, a career officer in the Canadian forces, a national military that more than most in the modern world has cultivated a strong tradition of serving as peacekeepers helping to end conflicts in lands distant from their own. In 1993 Dallaire was commander of the United Nations peacekeeping force in Rwanda when that country was swept in to genocide and ethnic cleansing by Hutu militants. The member nations of the world body refused to resource Dallaire's mission adequately, even after he presented them with a military plan weeks before the genocide that would likely have blocked the carnage before it ever began. Horror ensued. Dallaire and fewer than 500 soldiers (he'd asked for 4,500 more troops) sheltered and saved approximately 25,000 people, yet 800,000 Rwandans died. Dallaire returned home to Canada from the Rwandan mission a nearly broken man, suicidal and afflicted with severe PTSD.
In Canada, where the tragic failure of the mission under Dallaire's command was well known, the book from Random House Canada struck a huge chord and it had already sold over 100,000 copies when I acquired the rights. Many US publishers, including Random House in New York, had declined to publish the book here. I knew why they had–in the States, Dallaire was hardly known at all. As an acquiring editor at publishing houses for more than twenty-five years, I had never minded a situation like that. I welcomed the challenge, and loved working to promote an author, who on the merits of his/her book and their compelling personal story, deserved to be widely read and better known, thus allowing the book, with a solid foundation, to be built up in to a big success. Going in, I knew I needed to help the book find as large an audience as possible in the US, or better yet, bring as big an audience as possible to the book. I commissioned an original Introduction by Samantha Power, who'd recently published the Pulitzer Prize winner, A Problem from Hell: America in the Age of Genocide. We also caught a break when publication coincided with release of the movie, "Hotel Rwanda," in which Nick Nolte played a Hollywood version of the general. The movie portrayal, though very inaccurate, did elevate Dallaire's notoriety, and enabled us to generate major reviews and book him on shows like Charlie Rose, and many NPR programs.
Samantha Power of course is now serving as US Ambassador to the UN. Ironically, when Shake Hands  was published, the Washington Post asked former US Ambassador to the UN Madeleine Albright to review it. I considered this a very interesting, even a daring assignment by the Post book editors. After all, the Clinton administration's failure in Rwanda along with other countries was still fresh in mind, raw and painful. To her credit, in her review Albright gave Dallaire and his book their due. While conceding she'd been a part of many failures in Rwanda, she also pointed to flaws in the world system that leads to failures like Rwanda. Almost a decade later, failures like this still occur–look at the current civil wars in Syria and the Central African Republic. These recurrences are the sort of thing that torture Roméo; they can tip him in to a new flare-up of post-traumatic stress.
Despite the severe illness, Dallaire has rebuilt his life and psyche and gone on to do very important work in conflict resolution. I accompanied him to several of his NYC interviews, sitting in the back of taxicabs and in green rooms with him. We became friends, and I found him a dear person. Despite everything Roméo had endured–and the treatment and therapy he's still engaged with regularly–he has a good sense of humor with an almost merry glint in his eyes. I mentioned this to him and he said, "I've always tried to be like that. A commander without a sense of humor will not be respected by his troops." He's a soldier-humanitarian, kind and sensitive, Gandhi-like in his way. From the position he holds now as a Canadian Senator–where a major scandal has been coincidentally been raging the past few months–he has moved on in his life to advocate for the end of the practice of armies conscripting child soldiers. The Carroll & Graf edition of Shake Hands  sold well over 60,000 copies the first year after I published it, and it's still selling well today.
With the 20th anniversary of the genocide approaching next year, and four recent suicides of Canadian veterans of the Afghan War, Dallaire had a traffic accident this week due to severe insomnia and sleeplessness he's been enduring as these events prey on him. He was uninjured but shaken by the crash. The same day he made a statement of apology to his colleagues in the Canadian Senate, ironic since so few others there have been anywhere near as forthright in admitting their own missteps. I shared my concern for Roméo in a few tweets earlier this week.
Sending good thoughts to humanitarian @ESRomeoDallaire for rest&recovery from the severe fatigue he suffered today. http://t.co/geKG2dTSe1

— Philip Turner (@philipsturner) December 4, 2013
Note contrast bet contrition of @ESRomeoDallaire over minor incident while some shameless pols refuse responsibility. http://t.co/geKG2dTSe1

— Philip Turner (@philipsturner) December 4, 2013
http://philipsturner.com/wp-content/uploads/2016/11/GGB_Logo.png
0
0
Philip Turner
http://philipsturner.com/wp-content/uploads/2016/11/GGB_Logo.png
Philip Turner
2013-12-05 18:37:37
2016-10-23 22:09:47
In a Moment of Difficulty for a Friend, Thinking of Lt. General Roméo Dallaire