Readers of this blog may recall that last month, I wrote about my author client Lawrence Schick, who under his pen name Lawrence Ellsworth was soon to be publishing a new translation of a literary discovery he'd made, a long-lost novel by Alexandre Dumas titled The Red Sphinx. As I explained then, the publication date was to be January 3 of the new year, and we were hopeful the book, a veritable sequel to The Three Musketeers, would garner some significant reviews. I'm delighted to say that's beginning, right on queue the day after pub date. The first review is by critic Steve Donoghue in the Christian Science Monitor, and it's a rave, with this headline: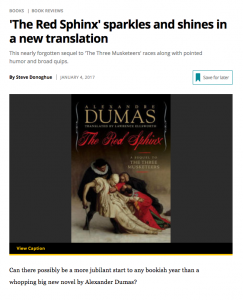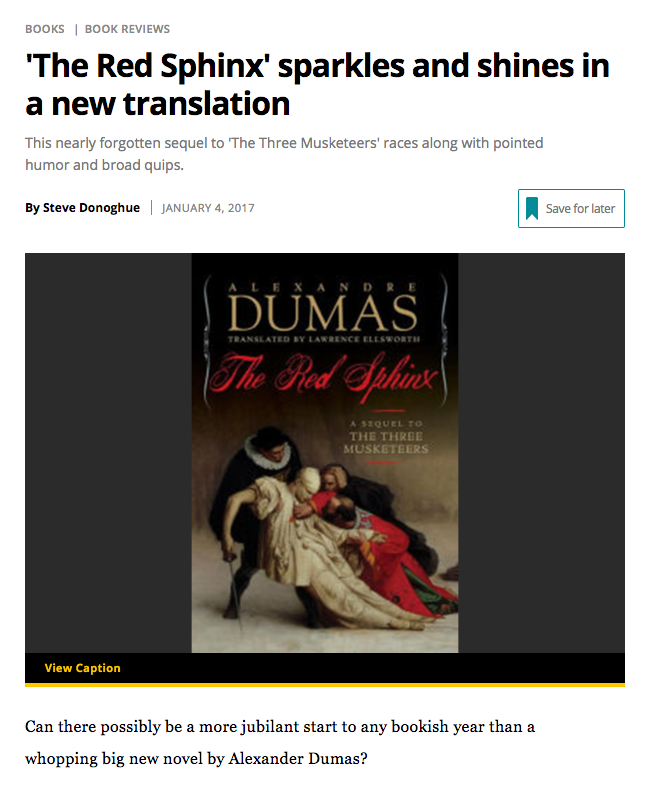 Donoghue's conclusion reads:
In his Afterword, Ellsworth confesses that translating Dumas is "a lot of fun," but he need hardly have said it: Fun permeates this big book. The rest of 2017's fiction will have to look sharp: An old master has just set the bar very, very high.
The whole review is linked to here. I'll be sharing more reviews as we get them. Clearly, this swashbuckling epic, at 800 pages, is a winner for people who savor historical and adventure fiction. For friends in the D.C. area, please note that Lawrence Schick will be appearing at the popular bookstore Politics & Prose in Washington on Sunday afternoon, January 29. Meanwhile, below is last month's post:
—-
On the literary agenting side of my editorial services and publishing consultancy, I'm very fortunate to have as one of my author clients the multi-talented Lawrence Schick. Our affinity starts with the fact that we're both natives of northeast Ohio, me Cleveland, him the Akron-Kent nexus. Then there's the fact that when I operated Undercover Books in Cleveland from 1978-85, with my two siblings and our parents, we stocked and sold the then-new role playing game Dungeons & Dragons, which somewhat improbably, was sold to bookstores by Random House sales reps. Years later, after I'd moved to NYC and become an editor, Lawrence and I became associated and I learned about his Ohio roots, and the fact that he was an original team member of the group of smart people that devised, produced, and marketed Dungeons & Dragons.
The first book we came together over was from one of Lawrence's many areas of special knowledge—the world of adventure fiction, particularly from the Swashbuckler Era (from roughly the 1840s-the 1920s), which led him, under the pen name Lawrence Ellsworth, to edit and introduce a spirited anthology called The Big Book of Swashbuckling Adventure, which Pegasus Books published in 2014. It featured selections from the work of Rafael Sabatini (best known for Scaramouche and Captain Blood), Anthony Hope (of Prisoner of Zenda renown), Johnston McCulley (creator of the Zorro character), Conan Doyle (he favored his adventure yarns more than his Sherlock Holmes stories), Pierce Egan (known for Robin Hood), Baroness Orczy (creator of the Scarlet Pimpernel), and Alexandre Dumas (there's so much more Dumas than The Three Musketeers)—in all a total of twenty writers from what could be fairly be called the golden age of adventure fiction. I wrote about it here a few times.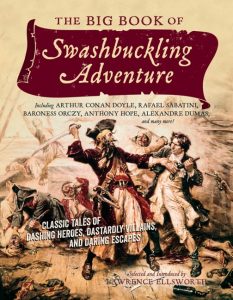 In the course of assembling the anthology, Lawrence, who also reads and translates French, made a surprising discovery: a long-lost Dumas novel, a veritable sequel to The Three Musketeers, which picks up the story where his most popular book had ended. It had a curious publishing history, even in French, and never had a proper edition in English. He's translated it in to a rollicking new version that Pegasus is bringing out next month, with finished copies showing up in bookstores very soon. It's called The Red Sphinx, and it features Cardinal Richelieu, a Machiavellian mastermind, who tangles with the hero, Count de Moret and his love, Isabelle. It's already had a starred review in Publishers Weekly, and intriguingly, I saw yesterday in Lit Hub that Pamela Paul, the editor of the New York Times Book Review, harbors a great desire to finally read Dumas, so we'll be sure she has the opportunity.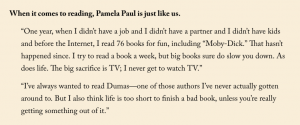 On publication date, January 3, Lawrence will publish a personal essay, "The Riddle of the Red Sphinx," in Lit Hub which will explain how he came to piece together the novel, despite the fact that when he discovered it, the ending was separate from the bulk of the book, and he had to discover it, too. I'll be sharing the essay and reviews in social media as they arrive. It's all kind of amazing—a very good, full novel by Alexandre Dumas novel that was barely ever published in English at all, by a master of adventure fiction who's been dead since 1870! It's sorta like having a new book by Charles Dickens, who happened to die the same year as Dumas.
Lawrence Ellsworth will be reading from the novel and speaking about Dumas and the Swashbuckler Era at Politics & Prose in Washington, D.C. at 1pm on the afternoon of Sunday, January 29, 2017. I'm delighted to share the front and back cover of The Red Sphinx from the bound galley I have in my office. For those eager to pre-order, you can find the hardcover here on Amazon, and an unabridged audio edition from Blackstone Audio.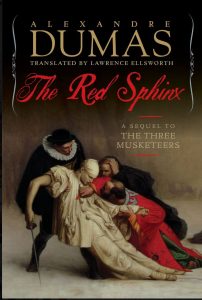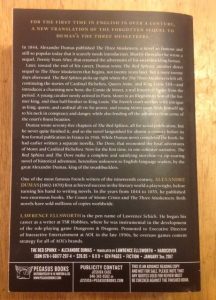 http://philipsturner.com/wp-content/uploads/2016/12/Dumas-review.png
807
653
Philip Turner
http://philipsturner.com/wp-content/uploads/2016/11/GGB_Logo.png
Philip Turner
2016-12-17 16:25:21
2017-05-05 12:30:40
"Sacre Bleu!" 1st Review of THE RED SPHINX, a Long-lost Sequel by Dumas to THE THREE MUSKETEERS