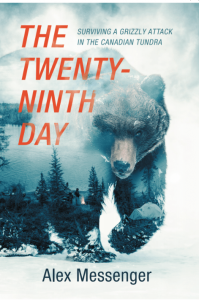 I'm thrilled that Alex Messenger's book The Twenty-Ninth Day: Surviving a Grizzly Attack in the Canadian Tundra will officially be published tomorrow, November 12 by Blackstone Publishing, in hardcover, ebook, and in an audiobook edition read by the author. I've been working with Alex since 2016, so it's very heartening to know that his book is about to reach the reading public.
As editor and publisher in 2002 of the superb historical novel The Revenant: A Novel of Revenge by Michael Punke, later adapted for a Hollywood movie, it's a happy coincidence for me to be involved with another book featuring the survivor of a near-lethal encounter with a grizzly bear. If you've enjoyed such books as Into the Wild by Jon Krakauer (where by contrast the young protagonist did not survive his wilderness ordeal), Admiral Richard Byrd's Alone, and Great Heart: The History of a Labrador Adventure by James West Davidson and John Rugge, you'll definitely enjoy Alex's first-person chronicle.
The Twenty-Ninth Day is also a featured pick of the Midwest Booksellers Association.
For updates on Alex's book tour, you can follow him on Twitter and Instagram @AMessengerPhoto and at The Twenty-Ninth Day website.
If you're in Minnesota, there's a full line-up of author events coming up:
11/12/19, 6pm, Bookstore at Fitger's, Duluth.MN
11/23/19 Author signing at Midwest Mountaineering Outdoor Adventure Expo, Minneapolis, MN
11/23 6pm Excelsior Bay Books, Excelsior, MN
11/30/19 Author signing at Frost River, Duluth, for Small Business Saturday
12/7/19 Scout & Morgan Books, Cambridge, MN
12/8/19 Holiday Signing at Next Chapter Bookstore 11-1pm, St Paul, MN
12/14/19 Zenith Bookstore, Duluth, MN, with two other authors
Also, here are some excellent publicity hits and below them the video trailer Blackstone Publishing did to promote the book.
Duluth News Tribune, feature article 
Minnesota Public Radio, interview with the author
https://youtu.be/6Mb4NJcPtiI
http://philipsturner.com/wp-content/uploads/2019/11/29th-Day.png
711
471
Philip Turner
http://philipsturner.com/wp-content/uploads/2016/11/GGB_Logo.png
Philip Turner
2019-11-11 13:57:13
2019-11-14 14:15:17
Excited for Publication Day of "The Twenty-Ninth Day: Surviving a Grizzly Attack on the Canadian Tundra"