Nov 7 Update: Tom Malinowski defeated Leonard Lance in NJ-7. Yippee!
—
Update to this post a few hours after publishing it on Sunday, Nov 4—I see that Tom Malinkowski is featured on the front page of Washington Post reporter Dave Weiegel's daily campaign trail report. So here's a link to Weigel's piece and screenshot of the opening about Malinowski below—with a quote from the candidate about the fact that while he's talking a lot of about healthcare, in his suburban district he's also talking with voters about Trump's hateful rhetoric about immigrants—followed by my original post.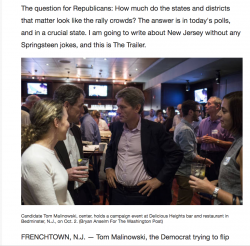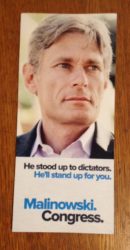 Had a productive day Saturday campaigning for Tom Malinowski, DEM candidate for the House in #NJ7. I've been aware of Malinowski for several years, from when he worked on the National Security Council for the Obama administration in human rights initiatives, with a strong background in diplomacy and foreign affairs. He has an interesting background, having been born in Poland, and emigrating with his mother to the US when he was six years old. An overwhelming number of volunteers answered the call for the noon-3pm shift in the town of Summit, about an hour train ride from Penn Station in Manhattan. We made a pleasant 15-minute walk to and from the station.
The trainer for my group of about 50 volunteers was the home owner—and a 2016 candidate in her town—she told us that she lost a local election that year by a single vote, underscoring the importance of all our effort this year. She added that her next-door neighbor was Republican senate wannabe Hugin, whose yard signs populated their neighborhood, but not her yard. These two pieces of information got the room buzzing even more than when we sat down. We learned from an organizer, John Marshall, that they gave out more than 250 info kits plus many sets of handouts to more than 400 volunteers by the time we moved up near the head of the line for materials.
We campaigned on the street in Summit, and got lots of thumbs-ups from people who'd done early voting, and talked with other folks who'd yet to vote and were very receptive to Malinowski. I'm hopeful he will unseat Republican incumbent Leonard Lance this coming Tuesday, help flip the House to a Democratic majority, and place a serious check on Donald Trump. The progressive group Swing Left, along with John Marshall, and host Lacey, did a great job organizing the volunteer effort. Below are pics of Kyle and myself with our co-volunteer Satya, plus the handout volunteers were provided, and some urban landscape photos we took during the relaxing train ride both ways. #vote
http://philipsturner.com/wp-content/uploads/2018/11/Malinowskifront.jpg
640
332
Philip Turner
http://philipsturner.com/wp-content/uploads/2016/11/GGB_Logo.png
Philip Turner
2018-11-04 13:30:12
2018-11-14 00:21:20
Campaigning for Democrat Tom Malinowski in NJ-7