As I wrote on this blog last week, I'm now working at the soon-to-reopen at Rizzoli Bookstore's new store in the NoMad neighborhood of Manhattan. Last night we held a reception for media and book publishing professionals in our handsome, still-under-construction new digs. There was a ribbon cutting with the Manhattan Borough President and celebrity toasts (pictures below). It was a thrill to meet many people to the space and say, "Welcome to Rizzoli's new bookstore!" I was tickled to bump in to an old friend, Ralph Gardner, Jr., who I knew in NY back in the '90s, and whose Wall St. Journal article on Rizzoli's exciting plans, published almost a year ago, I linked to in my post last week. We'll begin welcoming customers with a soft opening next Monday, July 27. The new store is at 1133 Broadway, near 26th St. This will be a very exciting week.
This photo I took during last night's party shows gorgeous murals of the Italian artist Fornasetti above the expanse of our literature section.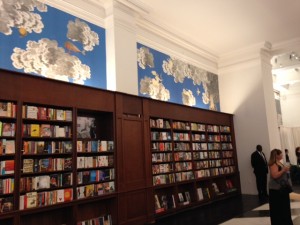 .
Click here for more of my iPhone shots from last night.