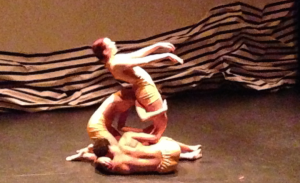 Had an enjoyable time last night at "Dark and Pretty Flat," a dance performance and multimedia presentation put on by Esmé Boyce Dance. The series of eight linked pieces flowed seamlessly from one to the next against a rolling video backdrop, of wooded roadsides and watery depths; atmospheric guitar playing, both live and looped; and spoken word poetry. The four dancers, in costumes that bore a wood grain texture in gray and peach hues, were sometimes on the floor all together, in pairs, or solo. Carving space with their articulate arms, hands, fingers, legs, feet, and toes, they supplely shifted their weight in to rolls across the floor and shoulder tucks that brought them in to very near proximity with their own torsos, or those of fellow dancers. It was a world premiere, with all the pieces choreographed by Esmé Boyce. Beside directing her eponymous company, she collaborates with the Satellite Collective and is a member of Janis Brenner & Dancers. Other collaborators were: video artist Cody Boyce, Esmé's brother, music and poetry; actor Ted Levine, reader; architectural designer Chat Travieso, set designer; artist Sue Julien, the two Boyce's mother, costume designer—she chose the wood grain fabric, and cut the costumes as supplely as the dancers moved.
The performance was at a lower east side combined theater and bar venue Dixon Place, a new one to me. Entering at 161A Chrystie St, between Rivington and Delancey, you walk in on a narrow bar, while small tables, chairs and sofas and a tiny stage are in the back. In that rear area is a stairway down to the basement where there's a large theater, with upwards of 50 seats in banked rows. As a New Yorker for nearly thirty years, it still fascinates me to discover spaces like this, caverns tucked away beneath the rumbling streets and subways, renovated and built out for creative endeavors. The establishment has a great vibe, whether upstairs or down. It was particularly nice to see Kit Boyce, friend of many years, husband of Sue Julien, father to Esmé and Cody, friends who I first met in Chicago, in the years I regularly went there to visit Franconia College classmate Robert Henry Adams.
After the dances, the full house walked back up the stairs for an instant after party in the bar and seating area. Bouquets were presented to the dancers—Esmé's mates were Giulla Carotenuto, Kit McDaniel, and Christopher Ralph—and toasts were offered all 'round. I hadn't been to a dance performance in years, and I found it an aesthetic pleasure to see movement, color, fabric, sound, and light all played to such intriguing effect. There's one more performance of "Dark and Pretty Flat" tonight. I recommend it highly, or take yourself out to some dance soon.