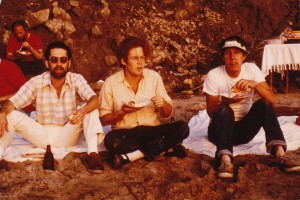 Please note–more photos will be posted on this page as I find them and have time to scan them.
In 1973, I met my friend Rob Adams at Franconia College in New Hampshire. He'd gone to high school in Michigan, along Lake Michigan, not far from Chicago. In later years, after college, we spent a lot of time at his mom's lakeside home, and had a lot of great beach days, including with his then-young son, Sam and his mom's Newf, Beulah.
After college, Rob moved back to the Midwest where he became a rare book, print and art dealer, operating Robert Henry Adams Fine Art, a highly respected Chicago gallery. He married Sandra Adams and they had two children, Sam and Jessie, now adults. Sadly, Rob died in November 2001, after several years fighting off melanoma. The picture below is one of Rob with me and the longtime third member of our troika, Karl Petrovich, also now sadly gone.