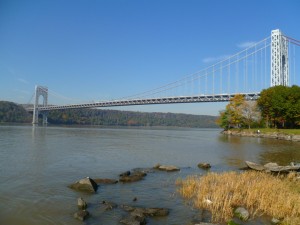 In a previous blog post, "An 80th Birthday Makeover for The Great Gray Bridge," dear reader, you will note I've borrowed the name for that entry, and the name for this very blog, from a nickname for the George Washington Bridge first used decades ago. My source is the 1942 children's book The Little Red Lighthouse and the Great Gray Bridge written by Hildegarde H. Swift and illustrated by Lynd Ward, creator of the remarkable wordless novel, God's Man, which was published in 1929, the very week of the stock market crash. It is a source of joy and pride for me that I am able to borrow from that classic the name for this blog "spanning urban life, books, music, culture, current events." Below are some pertinent photos I've taken of the bridge, the lighthouse, the river, and the grounds surrounding them on the Manhattan side of the Hudson. I take pictures during bike rides I take from my NY apartment to upper Manhattan. I'd understand if some of these scenes surprise you with just how sweet, bucolic, and pretty the city's Hudson shoreline really is. That's New York City, for you, full of surprises for the eager observer.
Two final notes:
The Little Red Lighthouse and the Great Gray Bridge remains in print today;
Thank you to web designer and friend, Harry Candelario, who adapted one of my photographs for the backdrop art for the home page of The Great Gray Bridge.
All photographs: Philip Turner
http://philipsturner.com/wp-content/uploads/2016/11/GGB_Logo.png
0
0
Philip Turner
http://philipsturner.com/wp-content/uploads/2016/11/GGB_Logo.png
Philip Turner
2011-12-10 16:40:28
2014-09-16 15:15:35
How This Blog Got its Name