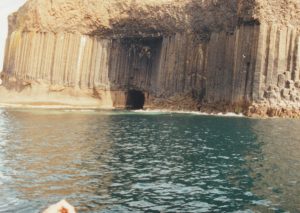 CBC Radio's Grant Lawrence is for the second consecutive August filling in for three straight weekends as guest host for the Vancouver weekend morning show, "North by Northwest," which airs from 6am-9am in British Columbia, and a very civil 9am-noon in NYC. I've been listening to, and enjoying Grant on the radio since 2009, when he was hosting "Grant Lawrence Live," a three-hour show most weekday afternoons on CBCRadio 3, the Internet-only outpost for homegrown indie rock n' roll on Canada's national broadcasting service. For the devoted audience of which I was a part, we listened to the station as often as workdays, employers, and connectivity would allow. And Grant wasn't the only popular host—there were many others avidly listened to, and musicians who did guest-hosting. The blend of infectiously enjoyable programming combined the best Canadian indie rock n' roll; crackling wit, from Grant especially; good heart from all; regular podcasts that supplemented the daily programming; and a lively communal blog on the Radio 3 website where listeners, hosts, and musicians occasionally, were all on line together, sharing thoughts and info on topics-of-the-day, plus current events, both news from the public sphere, and from people's lives. It made for great radio, a close virtual community, and music, art, and friendship that enriched many lives over several years.
In 2015, the CBC, what's known in Canada as a "crown corporation"—already under strain for several years due to severe budget cuts under the misrule of Prime Minister Stephen Harper, plus questionable management by CBC appointees who didn't, and still don't know broadcasting—ended live daily hosting on Radio 3, with emotional final shows by all the hosts still there, with Grant and another, Lana Gay, among the last remnant. The programming became taped promos, intros, outros, pre-produced musician featurettes, and a livestream of music, much of it by the same artists as before, but lacking the personal touch. The blog was still available to us then, and many of the core still hung out there in virtual space; I continued to visit the blog occasionally, but much less often listened to the live stream. Even though Justin Trudeau came in to office as Canada's new PM in November 2015, with a promise to restore funding to the CBC, the same management is still in place, and the privation of the service has not noticeably improved yet. Finally, last month even the Radio 3 blog was folded up, too. And, mysteriously, the music content on Radio 3 has been geo-fenced, so it can only be heard within Canada's borders, even though Radio 3 had long had fans and listeners from the US, Mexico, Britain, Australia, New Zealand, and all over the world.
I've drafted a letter that as a lifelong friend of Canada I'll be sending to the Honourable Mélanie Joly, 
Minister of Canadian Heritage, who has purview over the CBC. It reads in part,
I am personally and professionally invested in the work of sharing Canadian culture and spreading word of it all among appreciative cultural consumers in New York City, the US, and the wider world, among music lovers, readers, and among people who appreciate what a good country Canada is, with so many creative people.
I am writing to express my sincere hope that you and your colleagues will seriously consider restoring live hosting to CBC Radio 3; the daily live blog; and continue to provide the music service that has introduced myself and many other non-Canadians to the rich treasure house of talented Canadian musical performers.
I very much appreciate your attention to this letter from a non-Canadian. I remain a friend to Canada and to Canadian artists. Thank you for your consideration.
I hope she and her staff will read this and consider reversing course in many areas with regard to CBC Radio. Some of the Radio 3 people have moved on to jobs elsewhere, like Lana Gay who is on-air at Indie 88 in Toronto. For his part, Grant Lawrence has stayed at the CBC, working in social media and digital marketing for CBC Music, the larger entity in to which Radio 3 was folded, then swallowed up and made in to just another of their many live streams.
This is all stated as prologue to explain that I'm pleased when, from to time, Grant does a guest-hosting stint on one of CBC Radio One's many programs, such as the one mentioned above, on "North by Northwest," as he has the past two weekends, and coming up again this weekend (August 13-14). On his first weekend in the hosting chair, he aired a fascinating interview with American-Canadian blues legend, Jim Byrnes. He's also done a segment with Chris Nelson, a First Nations man who acts as custodian of 5,000-year old petroglyphs on the BC coast. Then, last weekend, he broadcast a segment about composer Felix Mendelssohn's fateful tour of Scotland in early August 1829, when he toured the scenic Hebrides, also known as the Western Isles, located off the mainland of Scotland, 187 years ago this month. Among many majestic sights, the composer visited the isle of Staffa, which is composed of vertical basalt stacks, formed it is said from a volcanic blast that also created the Causeway of the Giants in County Antrim on the northeast coast of Northern Ireland. On Staffa, seven miles distant from the larger island of Mull, Mendelssohn visited Fingal's Cave, a remarkable setting that inspired him to create new melodies after he experienced its uncannily acute acoustics, with the sea rushing in and out of the sheltered space. Last Sunday, Grant played the splendid orchestral overture "The Hebrides," and a section from Mendelssohn's Scottish Symphony.
All this reminded me of a visit Kyle Gallup and I made to Scotland in 1992, when we also toured the Hebrides and visited Fingal's Cave on a boat ride that landed us at the edge of the island, permitting us to take a brief walk inside the cave, using guiding ropes and metal stanchions sunk in the rock to keep visitors from sliding in to the water. The stanchions looked as if they were fixed in place almost 187 years ago! I'm glad I can share my photos here from our remarkable day, just as Mendelssohn shared his through his music. The first three photos (including the one at the top of this post) show us approaching Fingal's Cave, the middle two show us after we landed for our brief visit, and the last was taken from inside the cave itself. Thanks to Grant Lawrence for the reason to remember the glorious music of Felix Mendelssohn and our visit to Fingal's Cave almost 25 years ago! I'll be listening to him on "North by Northwest" again this weekend, and you can too, right here via the Internet.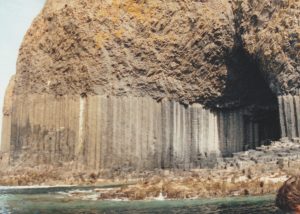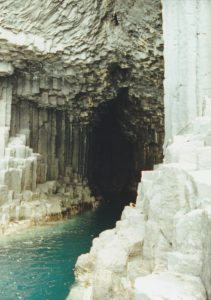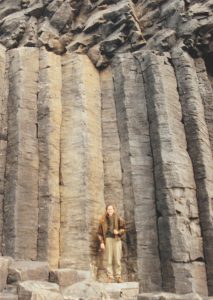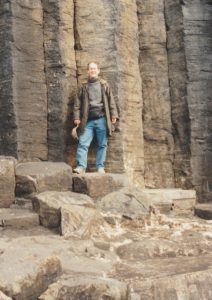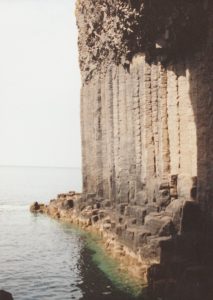 http://philipsturner.com/wp-content/uploads/2016/11/GGB_Logo.png
0
0
Philip Turner
http://philipsturner.com/wp-content/uploads/2016/11/GGB_Logo.png
Philip Turner
2016-08-11 12:12:10
2016-11-12 16:20:55
Appreciating the CBC's Grant Lawrence for his Evocation of Felix Mendelssohn's 1829 Visit to Fingal's Cave