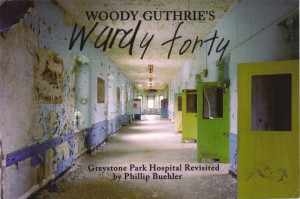 Friday night at Valentine, the gallery in Ridgewood, Queens, Kyle and I attended the opening of a very powerful exhibit, "Woody Guthrie's Wardy Forty," also the title of an accompanying book by photographer and curator of twentieth century ruins Phillip Buehler. It refers to the name Guthrie himself assigned to the section of Greystone Psychiatric Hospital, in Morris Plains, NJ, where he lived from 1956-61. On WoodyGuthrie.org, the site maintained by the late folksinger's daughter Nora, the biographical sketch of Woody explains the circumstances surrounding this chapter in his life (edited for length below, I suggest you make time to read the whole sketch):
"Toward the late 1940s, Woody's behavior started to become increasingly erratic, moody and violent….He was beginning to show symptoms of…Huntington's Chorea, a hereditary, degenerative disease that gradually and eventually robbed him of his health, talents and abilities….It was later discovered to be the same disease which thirty years earlier had caused his mother's institutionalization and eventual death. Shaken by inexplicable volatile physical and emotional symptoms, Woody left his family…taking off for California with his young protégé, Ramblin' Jack Elliott….Woody met Anneke Van Kirk, a young woman who became his third wife….Becoming more and more unpredictable during a final series of road trips, Woody eventually returned to New York with Anneke, where he was hospitalized several times. Mistakenly diagnosed and treated for everything from alcoholism to schizophrenia, his symptoms kept worsening and his physical condition deteriorated. Picked up for 'vagrancy' in New Jersey in 1954, he was admitted into the nearby Greystone Park Psychiatric Hospital where he was finally diagnosed with…the incurable degenerative nerve disorder now known as Huntington's Disease or HD. During these years, Marjorie Guthrie, family, and friends continued to visit and care for him. A new generation of musicians took an interest in folk music bringing it into the mainstream as yet another folk music revival. Joan Baez, Bob Dylan, The Greenbriar Boys, Phil Ochs, and many other young folksingers visited Woody in the hospital, bringing along their guitars and their songs to play for him, perhaps even to thank him."
For his part, Phillip Buehler explores, photographs, and appreciates modern ruins. His website is called Modern-Ruins.com. When he stumbled on to Greystone the grounds had been abandoned for more than forty years. As it's described in an statement accompanying the exhibit,
"After coming across thousands of negatives in the deserted darkroom, he researched the hospital and discovered that Woody Guhtire once lived there. He reached out to Guthrie's daughter Nora…who gave him Guthrie's case number. Buehler was then able to pull negatives from Guthrie's file…beginning a ten-year journey that led to Wardy Forty: Greystone Park Hospital State Hospital Revisited."
Copies of the book, a landscape format photography album with illuminating captions and text, were on hand at Valentine, while on the walls were hung small snapshots, many black & white, of Woody and family at Greystone; large format 4-color photos of the crumbling structure that was Greystone as Buehler found it; a slide show with the original text of Woody's intake interview at the hospital running at timed intervals, which strikes the viewer with the singer's innocence of the fact that his interlocutors seemed as it went along to increasingly believe he was mentally ill; and projected images of photographs taken of Woody at widely differing times, sadly showing his inexorable decline in health and demeanor. In a hallway off the main room is a display of intake photos of many Greystone patients with their patient number hovering above them, including that of Woody.
Nora Guthrie and Phillip Buehler were both on hand Friday night at Valentine. When Kyle and I came upon them, they were talking among themselves, but they welcomed us into their conversation and we enjoyed talking over the next little while. Nora told me with enthusiasm about the Woody Guthrie Center in Tulsa, Oklahoma, which she's recently helped to establish in her father's home state. She explained that it's a study center for researchers, an educational facility for students of all ages, and a concert space for live music performances. Nora's a warm and friendly person and it was a privilege to meet her this night. Buehler is also full of enthusiasm for his enterprises, and I was excited to tell him I share his interest in industrial archaeology and physical artifacts, as with my website photography of maritime and architectural artifacts, such as the Little Red Lighthouse and the Great Gray Bridge.
I recommend you check out Phillip Buehler's book, which A.M. Homes has called "hauntingly beautiful." It is available for purchase at WoodyGurthrie.org. I also urge you to see the exhibit, which will be up at Valentine until April 13. Below is more info on the exhibit and the gallery, along with pictures I took the other night, including this one of Nora Guthrie and Philip Buehler.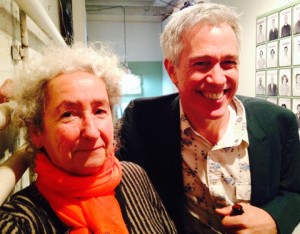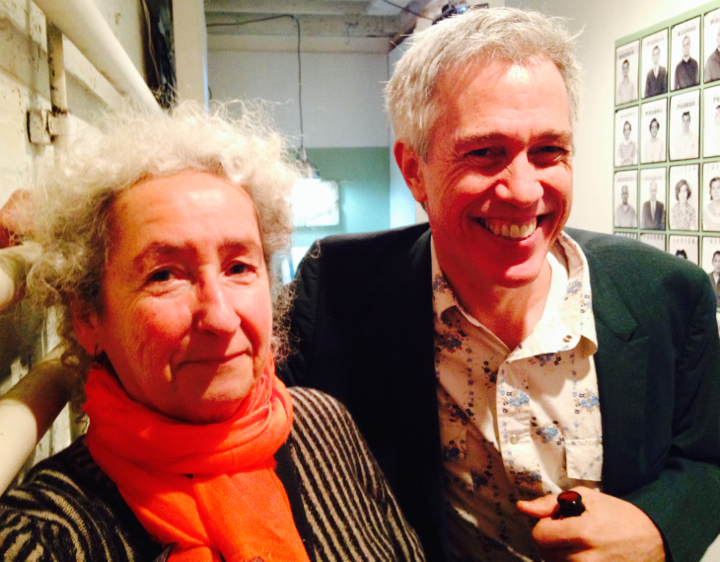 http://philipsturner.com/wp-content/uploads/2014/03/12-Nora-GuthriePhilip-Buehler.jpg
562
720
Philip Turner
http://philipsturner.com/wp-content/uploads/2016/11/GGB_Logo.png
Philip Turner
2014-03-23 16:14:29
2014-12-27 10:42:54
Remembering Woody Guthrie's Sad Convalesence at Greystone Hospital