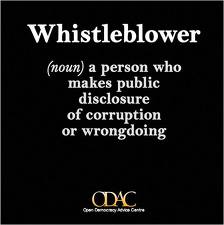 Neal Maillet, editorial director of Berrett-Koehler Publishers, has published a good opinion piece in Publishing Perspectives on what he sees as the imperative of publishing books by whistleblowers, and the dynamics that prevail when working with these authors and their books. In 2004 Berrett-Koehler published the breakthrough book on vulture capitalism, Confessions of an Economic Hitman, a mega-hit by John Perkins that was licensed to Plume for trade paperback for whom it was also a bestseller. More recently, he writes that B-K has published Confessions of a Microfinance Heretic, on the little-known darker side of what we like to think of as progressive measures to facilitate economic progress in the developing world.
For my part, when I describe the imperatives and mandates that impel my personal publishing choices I have long placed "whistleblowers, truthtellers, muckrakers, and revisionist historians" highest on my list, and refer to this on the two business-oriented pages at the top of this website, Philip Turner Book Productions and Philip Turner. Quoting from the latter page, I've written "As an editor and publisher I have always felt impelled to publish books by and about singular witnesses–whistleblowers, truthellers, muckrakers, revisionist historians–people who've passed through some crucible of experience that's left them with elevated author-ity, and the only person who could write the book in question, or about whom it could be written. Whether told in the first person by an author who has passed through some crucible of experience that leaves him or her uniquely qualified to tell the tale or in the third person by a reporter or scholar who has pursued a story or historical episode with single-minded passion, I am devoted to publishing imperative nonfiction, books that really matter in people's lives."
My definition of an imperative book is not limited to books by corporate and government whistleblowers, though it certainly includes them. The list of relevant books I've acquired and/or published over the past decade and a half includes these ten titles:
 DEAD RUN: The Shocking Story of Dennis Stockton and Life on Death Row in America (1999), a nonfiction narrative by reporters Joe Jackson and Bill Burke with an Introduction by William Styron, chronicling an innocent man on Death Row in Virginia and the only mass escape from Death Row in U.S. history. The condemned convict, Dennis Stockton, wasn't among the escapees, but he kept a whistleblowing diary detailing corruption in the penitentiary that he later with the reporters;
 IBM & THE HOLOCAUST: The Strategic Alliance Between Nazi Germany and America's Most Powerful Corporation (2001), an investigative tour de force by Edwin Black showing how one of the world's most successful technology companies lent its technology to the Third Reich's killing machinery;
 THE WOMAN WHO WOULDN'T TALK: Why I Refused to Testify Against the Clintons and What I Learned in Jail (2002) by Susan MacDougal, a New York Times bestseller. Susan served 18 months in jail for civil contempt when she wouldn't give Special Prosecutor Kenneth Starr the testimony he wanted from her.
THE POLITICS OF TRUTH: Inside the Lies that Put the White House on Trial and Betrayed My Wife's CIA Identity (2004) by Ambassador Joseph Wilson, which later became the basis in part for the film, "Fair Game," a New York Times and Publishers Weekly bestseller;
AHMAD'S WAR, AHMAD'S PEACE: Surviving Under Saddam, Dying in the New Iraq (2005) by Michael Goldfarb. A longtime NPR correspondent, this is Goldfarb's tribute to Kurd Ahmad Shawkat, his translator during the U.S. invasion of Iraq, who started a newspaper in the months after Saddam's fall, only to be assassinated for his editorials critical of intolerance. A New York Times Notable Book.
SHAKE HANDS WITH THE DEVIL: The Failure of Humanity in Rwanda (2006) by Lt. Gen. Roméo Dallaire, with an Introduction by Samantha Power, a Washington Post bestseller. Lt. Gen. Dallaire, commander of the U.N.'s peacekeeping mission in Rwanda, accepts his own failings, and then indicts the world body and its member nations for failing to prevent the genocide in the African country.
THE BABY THIEF: The Untold Story of Georgia Tann, the Baby Seller Who Corrupted Adoption (2007) by Barbara Bisantz Raymond. This exposé on the most prolific baby stealer in American history was a Publishers Weekly Best Book of the Year;
ON THE BRINK: An Insider's Account of How the White House Compromised American Intelligence (2006) by Tyler Drumheller with Elaine Monaghan. Drumheller was Chief of CIA Clandestine Operations in Europe who along with other officials during the Bush administration's build-up to invading Iraq tried to beat back their lies about the intelligence justifying the war;
THE UNITED STATES V. I. LEWIS LIBBY (2007), edited and with reporting by Murray Waas, comprising the trial transcript from Special Prosecutor Patrick J. Fitzgerald's case against VP Dick Cheney's Chief of Staff along with public records essential to understanding the destructive leak of Valerie Plame's CIA identity by members of the Bush administration.
COVERT: MY Years Infiltrating the Mob (2008) by longtime NBA referee Bob Delaney with Dave Scheiber. Before Delaney became a basketball official he was a New Jersey state trooper who in the 1970s acted the part of a Mob businessman for three years. His investigation led to the arrest and conviction of nearly thirty organized crime figures; a USA TODAY Best Book of the Year.
To the books by these authors, I would also add my writers, the late Edward Robb Ellis, the most prolific diarist in the history of American letters, and 100–year old Ruth Gruber, award-winning photojournalist–each of them singular eyewitnesses to history. Over the years I have published four and six books by them, respectively.
Among my professional roles nowadays is that of independent editor and consultant to authors on book development in which I continue seeking out unique individuals with stories like these to tell. That's also why I enjoy working with Speakerfile, the company that connects conference organizers with authors who do public speaking. Thanks to Neal Maillett and Berrett-Koehler Publishers for reminding me and all readers of the vital role publishers play in helping us hear the voices of whistleblowers and truthtellers. H/t to Mike Shatzkin for alerting me to Mr. Maillett's article. Also, thanks to the Open Democracy Action Center (ODAC) for use of their whistleblower graphic.
http://philipsturner.com/wp-content/uploads/2016/11/GGB_Logo.png
0
0
Philip Turner
http://philipsturner.com/wp-content/uploads/2016/11/GGB_Logo.png
Philip Turner
2012-06-29 13:53:06
2016-11-14 16:56:27
On the Imperative of Publishing Whistleblowers