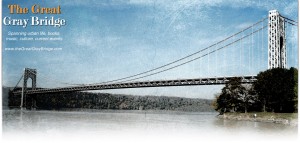 Today October 30, the day after Hurricane Sandy struck New York City, is the one-year anniversary of The Great Gray Bridge. To mark this occasion, I've installed some new features here that will make it easier for you to to read and share the content I create and publish. First, as you'll see near the top of the right-hand column, you may now "Sign up to get posts by email"–which means you can by signing up there  get every new post I publish sent directly to your email inbox. If you sign up for this option, you may easily forward a post to any of your own contacts, people who may not yet know about The Great Gray Bridge. If you do entrust me with your email address in this fashion, I promise to not sell or give your info to any third party. And, if, for any reason you want to unsubscribe later, you may just click "unsubscribe" at the bottom of any the emailed posts sent from the site.
I should add that you don't have to do any of this–if you enjoy visiting the site periodically to see what's new and surfing around, please continue doing that.
Second, above the email sign-in window, is a grid with active buttons to connect with all of my social media accounts, Facebook, Twitter, LinkedIn, tumblr, Pinterest, and an RSS feed from this site. I will be rolling out other new features in the weeks ahead, such as a youtube channel connected to The Great Gray Bridge.
After years curating publishing lists that reflected my understanding about what people wanted to read, and editing the words of other writers, it is a joy to be writing on my own, to publish it here, and to share it throughout our inter-connected world. Thank you very much for reading and sharing what I publish.
http://philipsturner.com/wp-content/uploads/2016/11/GGB_Logo.png
0
0
Philip Turner
http://philipsturner.com/wp-content/uploads/2016/11/GGB_Logo.png
Philip Turner
2012-10-30 21:58:31
2012-10-30 23:47:17
New Features at The Great Gray Bridge, One Year Old Today