Update: Turtle Diary has now been reissued. See my new post about it, published July 12, 2013.
—
When longtime novelist and children's book author Russell Hoban died last month, it was reported widely, deserving for an author who'd written the perennially popular children's book series featuring the badger Frances (Bedtime for Frances, etc.) and the daring novel Riddley Walker (1980), set in a post-nuclear world. With an ingeniously minted alternative language, the protagonist is an appealing dystopian hero, unlike the menacing Alex DeLarge from A Clockwork Orange. I read the obituaries memorializing the 86-year old Hoban, and today was delighted to find another really good piece on him was just published by Irish novelist Kevin Holohan.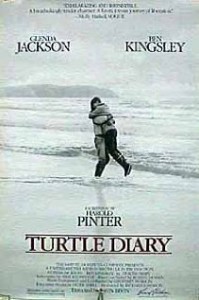 The book of Hoban's that I loved most was Turtle Diary, a 1978 novel about two lonesome adults, strangers to one another at the start of the book, who happen to meet and befriend one another in front of the sea turtle tanks at the London Aquarium. Hesitant to converse at first, they quickly realize they're each pondering and worrying over the fate of these large reptiles in their too-small tanks that mirror the limits surrounding their own lives. Soon, they hatch a conspiracy to spring two of the great, heavy aged beasts from their confinement, and with the help of an agreeable aquarium guard, set them free in the sea. In my bookstore, Undercover Books, we sold stacks of the Avon mass market paperback edition. In 1985 the novel was made into a memorable film with Harold Pinter adapting Hoban's novel, Ben Kingsley and Glenda Jackson playing the unlikely couple, and Michael Gambon the guard who facilitates their plan, and their relationship. We sold many copies of Hoban's books at Undercover Books; I recall that Riddley Walker was prominently reviewed in the New York Times Book Review by Benjamin Demott and again in the daily Times by John Leonard, who wrote, "His patter is an extraordinary compound of Middle English and Black American, an unpunctuated slanguage that achieves -despite some internal contradictions -the poetic. After 30 pages, we stop reading and start listening. The ear becomes our organ."
When I was with Carroll & Graf Publishers, a literary agent offered us rights to the next Hoban novel, Amaryillis Night and Day, then being published in Britain. I made a modest bid for U.S. rights, but the author evidently thought it too modest and it ended up being published here by another house. It would have been a personal high point to publish a book with Mr. Hoban, but it was still a treat to read him in manuscript.
If you've never read one of Russell Hoban's fine books, I urge you to remember him and the next time you're browsing, especially in a second-hand bookstore, keep an eye out for his name on the spine of a copy of Riddley Walker, or even better, Turtle Diary. Don't hesitate to take a copy home. He was just a great writer. And if you see a copy of the old video of the film "Turtle Diary," grab that too, because Netflix doesn't have it.
March 5, 2012, Happy News Update: The book imprint from the New York Review of Books, NYRB Classics, is reissuing Turtle Diary, so soon there will be no need to to find it secondhand.
http://philipsturner.com/wp-content/uploads/2016/11/GGB_Logo.png
0
0
Philip Turner
http://philipsturner.com/wp-content/uploads/2016/11/GGB_Logo.png
Philip Turner
2012-01-20 23:51:58
2013-07-12 15:35:58
Russell Hoban, Just a Great Writer