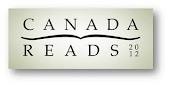 Congratulations to friends Emiko Morita, Jesse Finkelstein, and Scott McIntyre of Douglas & McIntyre Publishers of Vancouver for their book Something Fierce: Memoirs of a Revolutionary Daughter by Carmen Aguirre being named winner of the "Canada Reads: True Stores" competition on CBC! It was brilliantly championed in this week-long on-air debate by musician Shad. The runner-up was Ken Dryden's timeless hockey classic The Game. Other finalists during the week were On a Cold Road: Adventures in Canadian Rock by Dave Bidini, longtime member of the great band The Rheostatics; The Tiger: A True Story of Vengeance and Survival by John Valliant; and Prisoner of Tehran, a memoir by Marina Nemat. Hour-long discussions and debates on the five books have been held each day this week, carried on CBC Radio One, and on the CBC website, with each finalist championed, not by its author, but by an advocate. TV personality Alan Thicke boosted The Game, for instance, and also did a great job.
This was the first year Canada Reads was devoted to nonfiction books. The process began a few months ago with a longlist of fifty books, and through readers and fans voting for their favorite books, the crop was reduced to the shortlist of five. Despite issues I had with the judging at times seeming too much of a reality show, with books being eliminated one by one, and one advocate who I simply came to loathe, I think a months-long national reading fest like this is a great way to raise the awareness of books and reading among the widest possible population. I don't suggest that the U.S. do this precisely, but initiatives with entire cities reading the same book have been quite successful. As members of the U.S. book community we certainly ought to continue experimenting with ways to heighten the visibility of great books and reading. Winners of Canada Reads invariably become huge national bestsellers. I find time after time that U.S. cultural industries–publishing and music especially–have a lot to learn from the ways that Canada promotes its arts and artists.
Something Fierce will be published in the US in August. I am getting a copy from D&M and will be writing about on this site.
[Feb. 10-This post has been updated with new information from the publisher in Vancouver about the forthcoming edition.]
http://philipsturner.com/wp-content/uploads/2016/11/GGB_Logo.png
0
0
Philip Turner
http://philipsturner.com/wp-content/uploads/2016/11/GGB_Logo.png
Philip Turner
2012-02-09 12:36:38
2012-02-10 18:06:21
"Something Fierce" Wins Canada Reads: True Stories