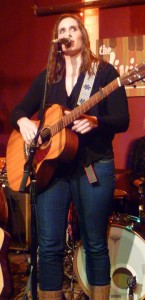 One of the first musical artists I chanced upon when I discovered the terrific Canadian indie music scene on CBC Radio 3 was the spellbinding Maritimes-born singer-songwriter Rose Cousins. I put her classic, "White Daisies," a poetic tale of love and loss, in one of the first personal playlists I made on the Radio 3 website and have listened to it many times with its great vocal and concluding verse,
"You sent me flowers when you were strong/You were my baby, a whole year long/All you could tell me is how I'd done you wrong/Now I've got white daisies and a lonesome song."
I was excited last month when I heard Rose would be performing in New York City at the Living Room, a great venue to enjoy acoustic and roots music and lightly amplified rock 'n roll. When I arrived breathless last night, cutting it way too close for the announced 8:00 start time, I saw a very full room, and wondered where or if I might find a seat. When I saw there was no one at the door taking cover charge money, I realized that the gig was actually a release party for Rose's new album, "We Have Made a Spark." Someone was already saving the first seat I tried, but on my second attempt found a chair right in front of the low stage, closer to Rose and her mic than anyone else's in the room. She was only moments from beginning her set when I shrugged off my coat and settled in to my seat.
The stage at the intimate Living Room was crowded with the excellent band she'd gathered around herself in Boston where the new album was recorded–with Charlie Rose on banjo and pedal steel; album producer Zachariah Hickman, plucking and bowing an upright bass and sporting a handlebar moustache; Sean Staples seated, on a battery of acoustic guitars; Billy Beard on drums and other percussion, playing great thumping beats; Austin Nevins on a big, gorgeous hollow body Gretsch electric guitar making tasty licks; Dinty Child, on an eight-string (!) acoustic guitar, banjo, and piano; and Ana Egge singing backup vocals, who was seated at the same table as me when she wasn't singing. Rose sang beautifully and feelingly, moving between her Martin guitar and the piano tucked in the far corner of the stage. In her songwriting she boldly knits her heart to her sleeve, and in her vulnerability asks her listener to do the same. "Spark' is a very intimate and personal set of new songs that began growing on me instantly. I had heard Radio 3 hosts Grant Lawrence and Lisa Christiansen say that she also has a great stage presence, often engaging in witty and self-revealing banter. This reputation is deserved, as she introduced virtually every song with a bit of story and a personal truth.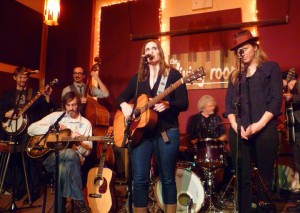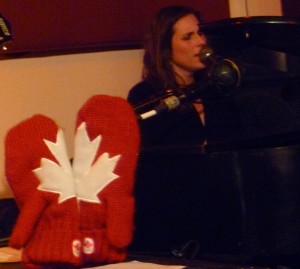 After the gig it was a treat to introduce myself to Rose, and tell her that I love her home province of Prince Edward Island. I mentioned that my wife, artist Kyle Gallup, painted gorgeous watercolors when we vacationed there a few years ago, and she replied that her grandma had also painted PEI's lovely shores and red sand beaches. One of Kyle's pieces is below, a PEI scene titled, "Doyle's Cove, North Rustico, 2008."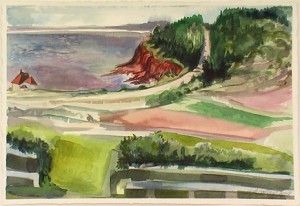 http://philipsturner.com/wp-content/uploads/2016/11/GGB_Logo.png
0
0
Philip Turner
http://philipsturner.com/wp-content/uploads/2016/11/GGB_Logo.png
Philip Turner
2012-03-04 14:53:04
2012-04-10 08:04:06
Rose Cousins & Band--Catching a Spark at The Living Room