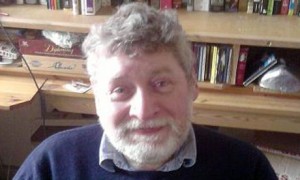 Via the Guardian comes a lovely memorial by longtime British publisher Ion Trewin bearing the sad news that the sparkling, smart Nick Webb–who as science fiction editor of Pan Books commissioned Douglas Adams to turn his BBC radio drama "The Hitchhiker's Guide to the Galaxy" into an international bestselling book–has died at age 63. According to Trewin's obit, the first book of what would become the multi-volume science fiction series sold 250,000 copies within three months of publication in 1979 and a million copies by 1984, in the U.K. alone. Meantime, in the U.S., where I was then running Undercover Books, my bookstore in Cleveland, we stacked up and sold the well-priced little hardcover from Crown Publishers, reordering it repeatedly for months.
Trewin, who now works as literary director of the Man Booker Prize, clearly knew and liked Webb, the voluble son of an Irish pop and a Jewish mom. "He had a vivid sense of humour, often word-based, and delighted in mixed metaphors, once relating hearing someone say: 'I smelled a rat and nipped it in the bud.' Many years later the memory would still make him chortle. In conversation he used words and phrases that were inimitably his own. The acquisition of the first Hitchhiker novel was hardly considered a big deal, he recalled, or as he put it: 'I was not proposing that we spend serious sponduliks.'" I met Nick Webb once, at a Frankfurt Book Fair when I was with Kodansha America, and enjoyed telling him I'd sold Adams' novels in my bookstores. I liked him instantly.
Sadly, Douglas Adams also died, in 2001 at fifty-one. Happily, he and Webb left a remarkable legacy–one of the funniest, most brilliant pieces of science fiction published in the second half of the twentieth century.
http://philipsturner.com/wp-content/uploads/2016/11/GGB_Logo.png
0
0
Philip Turner
http://philipsturner.com/wp-content/uploads/2016/11/GGB_Logo.png
Philip Turner
2012-04-23 13:50:41
2012-04-23 15:07:10
Remembering Nick Webb, a Bright Light in British Publishing