On this anniversary of what would have been my late brother Joel's 61st birthday, my sister Pamela and I remember him with all the force of memory and familial affection, as well as our departed parents, Earl and Sylvia. On May 4, 1978, the five us founded Undercover Books, the bookstore that would give all three of us siblings our adult careers. For those who didn't know Joel–or who did and want to be reminded of his personality and accomplishments, which included a run for Congress in 2000 and earlier being among the very first online booksellers, several years before Amazon.com–you may read an obituary in the Cleveland Plain Dealer and the remembrance I wrote that was excerpted in Shelf Awareness and Bookweb. The entire piece is pasted in below, set in the Comic Sans font to which Joel was partial (for readers able to view it that way) along with photos of him.
—-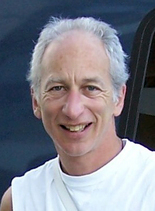 December 9, 2009
Dear Friends and Colleagues,


It was with great regret and sadness that we write to inform you of the recent, sudden passing of our dear brother, Joel C. Turner, 58 years old. 

Many of you will recall that we three siblings together opened Undercover Books, in Shaker Heights, Ohio in 1978, on May 4 of that year, with the hard-working assistance of our parents, Earl (deceased, 1992) and Sylvia (deceased, 2006). From the original location at Van Aken Shopping Center, our family-run independent chain grew to occupy a location in the historic Old Arcade of downtown Cleveland, and a shop that also featured the sale of record albums and the then-new format of CD-ROMs, in Chagrin Falls, Ohio. Joel's role in the bookstores' success and the good reputation we enjoyed in the book world was vital and indispensable. He was always generating exciting new ideas that drove our growth. Joel was a constant reader, a passionate believer in books and the power of the printed word. He derived tremendous satisfaction from selling books to the devoted readers whose trade we cultivated in our bookstores. 
We were fortunate to open our business at a moment when throughout the country and particularly the midwest, much book retailing was migrating from older downtowns to suburban locales, as the book departments of long-established department stores and old-line independents gave way to new indies like us. Soon, we were being regularly called upon by publishers' sales reps from all parts of the industry, as Undercover Books became a go-to store for houses eager to break out books on the national scene. Notable authors who launched books at our stores included Mark Helprin ("Winter's Tale"), Richard North Patterson ("The Lasko Tangent"), and Walter Tevis ("Queen's Gambit").  
The stores, indeed the Turner family home, helmed by Sylvia's extraordinary cooking and hospitality and Earl's gregarious nature, and Joel's energetic raconteurship, also became a favorite stop for sales reps and authors.


By the early 1990s, competitive and economic pressures had mounted, and Joel had the vision to reduce the brick & mortar concentration of our enterprise and transform it into an operation that served businesses, corporate libraries, schools, and public institutions. As this shift occurred, the name of the business became Undercover Book Service, which soon also had an online presence, surely one of the first online booksellers. He also developed a sideline in the antiquarian and second-hand side of the trade. Joel was a true bookseller, and also served the book industry through active participation as an officer and board member of the American Booksellers Association.  


In this decade, he and Sylvia moved to a lovely part of North Carolina, where he helped her live very comfortably for the remaining years of her life. After Sylvia's death, he built for himself a beautiful home on a scenic mountaintop in the town of Bostic,  Rutherford County, North Carolina, where he died in his sleep this past weekend.  In addition to the two of us–his younger brother and older sister–Joel is survived by nephew and niece Benjamin and Emma Taylor; nephew Ewan Gallup Turner; brother-in law Ev Taylor; sister-in-law Kyle Gallup; cousins Stephanie Shiff Cooper and Brian Shiff; and Uncle Myer Shiff and Aunt Linda Shiff. 


Plans for memorializing Joel are being considered as we write this to you. For those wishing to mark Joel's life with a charitable donation we urge you to make contributions to the American Booksellers Foundation for Free Expression (ABFFE,  http://www.abffe.com/) or for medical research in search of a cure for diabetes.  
We write in sadness, but with fondness and appreciation for all the years that we three Turner siblings and our parents were recipients of your generous affection, respect, and consideration.  The bookstores gave all of us, and especially Joel, great enjoyment and satisfaction, along with so many wonderful friends. Feel free to send this message on to any of your contacts in the book world. 
Sincerely, 
Philip Turner (philipsturner@gmail.com) and Pamela Turner (pturnertaylor@roadrunner.com)
http://philipsturner.com/wp-content/uploads/2016/11/GGB_Logo.png
0
0
Philip Turner
http://philipsturner.com/wp-content/uploads/2016/11/GGB_Logo.png
Philip Turner
2012-05-26 14:17:37
2012-05-27 22:01:43
Joel C. Turner, May 26, 1951-Dec. 8, 2009