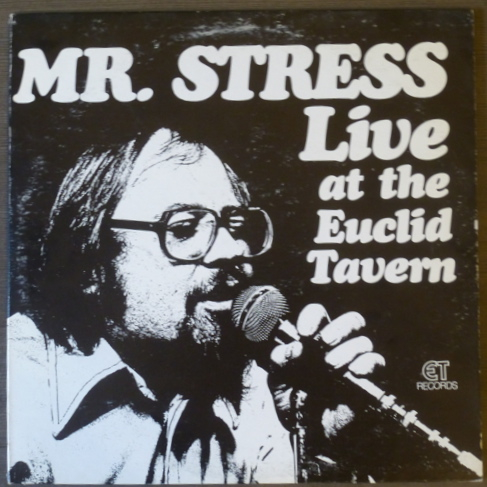 Delighted to see that Rust Belt Chic, the book to which I contributed an essay, "Remembering Mr. Stress, Live at the Euclid Tavern," is getting lots of coverage. One of the best parts of writing the essay has been that it's put me back in touch with the venerable Cleveland bluesman, Mr. Stress, whom I followed avidly for many years.
This week, Andrew Sullivan's blog at The Daily Beast website, The Dish, wrote about Rust Belt Chic in a piece called "Between Ruin and Rebirth," citing the book and Roger Ebert's review of a new documentary, "Detropia." Fitting, with the Tigers beating the Yankees on Thursday and advancing to the World Series. Relatedly, Friday's NY Times brought a smart essay by Bill Morris, on the recent rejuvenation of Detroit's downtown. It seems that the topic of urban decline and rebirth is never far from the collective mind.
Rust Belt Chic has also been covered by Karen D. Long, Book Editor at the Cleveland Plain Dealer in a weekend piece, "'Rust Belt Chic' warms to scruffy, problematic Cleveland". Long writes that the community enterprise that fueled the book "resembled a pop-up civic action." Typifying this approach, co-editors Anne Trubek and Richey Piiparinen asked all the contributors–in the event that the book sells well enough to make back its expenses and reaches profitability–if we would want an honorarium payment, or prefer to plow our earnings into another indie project to be chosen from among book ideas presented by the contributors, with one (or if we're really fortunate, more than one) project being chosen for funding. I have a ready book idea–a new volume to be culled from the Guinness Book of World Records-recognized diary of Edward Robb Ellis, whose A Diary of the Century: Tales from America's Greatest Diarist, I edited and published in 1995. I am happy to have chosen the latter option.
In case you missed an item I put up last month, one of my fellow Rust Belt Chic contributors is Connie Schultz, the Pulitzer Prize-winning columnist and author. In the past year, she left the Plain Dealer while for her husband Sherrod Brown's run for re-election to the US Senate from Ohio. A few weeks ago, on the Rust Belt Chic Facebook page, I saw this note from Ms. Schultz:
"Sherrod didn't get home until after midnight last night, but as soon as he saw my newly arrived stack of 'Rust Belt Chic: The Cleveland Anthology,' he had to pick up a book and take a look. 'Wow,' he said, over and over, as he recognized one writer's name after another, read aloud some of the titles and marveled at the photos." Here's my whole piece, "Senator Sherrod Brown ♥s "Rust Belt Chic".
I hope you buy the book as a print or a digital edition, or get one of each, not simply because you want to support this communal effort, but because it offers thirty-five fine examples of narrative journalism, chronicling a distinctive part of the country that is too often overlooked on the literary and cultural map. I also urge you to follow the book's Twitter feed, @rust-belt-chic. On my own Twitter feed, @philipsturner, I've started a hashtag, #MrStress. You may also 'like' the Rust Belt Chic Facebook page. Thank you for supporting this exciting experiment in cultural urban renewal.
Finally, I got word today that there will be a public event with Rust Belt Chic contributors in Brooklyn, NY, on January 3. I hope to be there, reading from my essay on Mr. Stress. More details when I have them.
http://philipsturner.com/wp-content/uploads/2016/11/GGB_Logo.png
0
0
Philip Turner
http://philipsturner.com/wp-content/uploads/2016/11/GGB_Logo.png
Philip Turner
2012-10-20 13:12:44
2012-12-16 13:26:20
Latest Coverage of "Rust Belt Chic: A Cleveland Anthology"