Enjoyed a great urban amenity this aft: NYC's Sheltering Arms public pool, Amsterdam&128th St. Clean, empty, lovely. pic.twitter.com/GloPoIheiQ

— Philip Turner (@philipsturner) August 13, 2013
This week has turned out to be a blend of some work combined with a supremely enjoyable Manhattan stay-cation. Yesterday, my wife and I got to swim at a neighborhood pool we'd never been to before, as the tweet above shows. Then today, with the temps in the mid-70s, we rode our bikes up along the Hudson to our favorite beauty spot, Hudson Beach, and then a few blocks further up-river to the Little Red Lighthouse, which nestles under the Great Gray Bridge, aka the George Washington Bridge.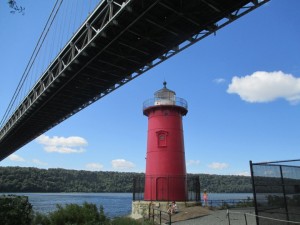 Like other great rivers such as the Chesapeake and the Columbia, the Hudson is a tidal body, flowing in to and out of the vast harbor of New York and what's known as the Upper Bay. The tides make the Hudson ever-changing, one of the reasons it's never boring to ride along its shore or study its contours. In moments of low tide, the shoreline will be exposed, leaving artifacts of NYC's maritime past visible to the eye. Thus, times of low tide have made for very special rides in recent days and weeks. However, our ride today came at a time of high tide, as the pictures below will show. Moments of high tide make for a well-nigh overwhelming feeling of fullness, almost as if the river were in your lap as you gaze at it from the shore. High tide also brings a sense of the river's prodigious power, as if one could practically be swept up in to it and borne away by its swells. That was the feeling we had today, almost as if we had made a visit to an ocean beach. Add to that feeling the fact that we rode more than nine miles in moderate temps under full sunshine amid brisk winds. The result was one of the best days of the whole of summer 2013.
http://philipsturner.com/wp-content/uploads/2016/11/GGB_Logo.png
0
0
Philip Turner
http://philipsturner.com/wp-content/uploads/2016/11/GGB_Logo.png
Philip Turner
2013-08-14 22:39:40
2013-08-14 22:41:55
High Tide on the Hudson