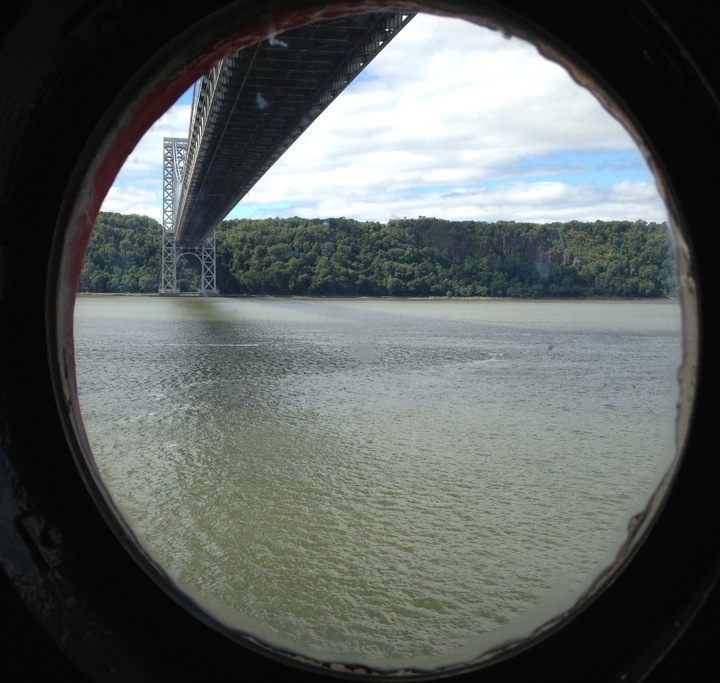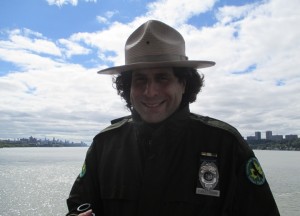 Readers of this blog may recall when about a month ago I wrote a post after I discovered one day that the NYC Parks Dept opens the Little Red Lighthouse to visitors the second Saturday of each month from May-October. The LRL is the last lighthouse sited in Manhattan, and a unique urban landmark. It sits under the George Washington Bridge, aka known as the Great Gray Bridge, about even with 178th Street on one of the most westerly points in Manhattan. I had a fabulous time that day, exhilarated by the climb up the three steep steel stairways to the lighthouse's cupola, where you stand out in the open air, viewing a 360-degree circuit from about 45 feet up in the air. That day I was able to take some great pictures: the shadows cast by the great gray bridge on the Hudson River; shoot south toward points in lower Manhattan; and point my camera in the upstate direction toward Yonkers and well past, fantasizing that the Catskills were just beyond a gradual dogleg in the river's northward push. When I look that direction I imagine Hendrik Hudson in the Half Moon sailing up-river in the multiple voyages he made between 1709-1712.
I was eager to get back there and take more pictures, and excited that this time my wife Kyle Gallup would be riding up there with me. We set out just before 1 PM. It had been rainy much of the week, but that was finally past, and high barometric pressure had moved in–the air was scrubbed and freshened by the front of new weather. Our ride up the Cherry Walk was right in to 15 mph wind gusts but we pedaled through it.
As we pedaled past what we fondly call Hudson Beach, an exposed area of sand and shore about even with 165th Street, we rounded another bend and there was the lighthouse with its front door swung open for visitors, with a nearby tent staffed by a Coast Guard auxiliary officer. With a friendly demeanor, he had us sign in and added that next month–on October 12 for what will be the final open day of the year–there will be a fall festival in the park around the lighthouse. We left our bikes behind the tent and headed toward the open door of the lighthouse. A female ranger in a broad hat greeted us and showed us the chunky brass key that for many years was used to open the door.
From one's first step inside, the interior of the lighthouse with its dense, plated steel walls, remindful of a ship or a submarine, makes a powerful physical impression. To learn more of the lighthouse's colorful history–including details of the children's book it inspired and the original siting of it at Sandy Hook, New Jersey, in 1880–I invite you to read the full post I wrote about it last month.
http://philipsturner.com/wp-content/uploads/2013/09/4-Porthole.jpg
683
720
Philip Turner
http://philipsturner.com/wp-content/uploads/2016/11/GGB_Logo.png
Philip Turner
2013-09-14 23:35:49
2017-10-05 10:37:16
Another Brilliant Visitors' Day at the Little Red Lighthouse