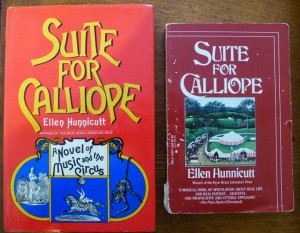 April 2 2018 Update:
Epic obituary of Drue Heinz who used her wealth to support literature incl #EccoPress (now @eccobooks) #Antaeus, etc. In 1989, an author I edited, Ellen Hunnicutt, won the Drue Heinz Literature Prize for In the Music Library. Sympathies to @Daniel_Halpern. https://t.co/zNfM0wzfcV

— Philip Turner (@philipsturner) April 2, 2018
—-

I was delighted to see Publishers Weekly reporting this afternoon that Daniel Halpern of Ecco Press is being awarded The Center for Fiction's annual #MaxwellPerkinsPrize for "championing writers of fiction in the United States." I met Dan in 1987, when his stewardship at the literary magazine Antaeus brought us in to contact. A book I'd edited and published, Suite for Calliope: A Novel of Music and the Circus, won the Drue Heinz Literary Prize, an award sponsored by Antaeus.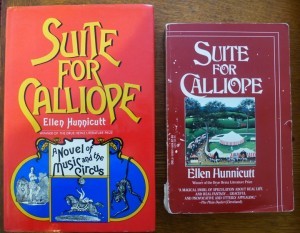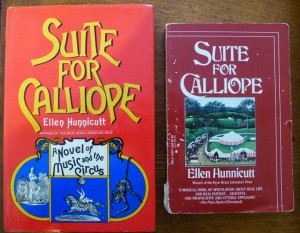 Ironically, I had earlier encountered the circus novel, by an as-yet unpublished writer named Ellen Hunnicutt, when I worked as first reader/contest judge at Scribner, who at the time sponsored a first novel prize in Max Perkins's illustrious name*. Though Hunnicutt's didn't win that contest, when my Scribner stint ended I got my first full-time job as an acquiring editor, at Walker & Company, contacted Ms Hunnicutt, and made her book my first-ever fiction acquisition. Some months later, with the novel edited and in galleys, Ellen was named recipient of a different award, the Drue Heinz Literature Prize, chosen and given by Antaeus, for a distinguished body of work in short stories. A few months after Walker & Co published Suite for Calliope, by virtue of an Antaeus arrangement with the University of Pittsburgh Press, Hunnicutt's short fiction was published in a collection titled In the Music Library. This link leads to other essays I've written for this blog that chronicle my experience in acquiring and editing Hunnicutt's truly exceptional novel. The book received a starred review in Kirkus, a significant date in my life that I've written about here. sold out its hardcover printing, and Dell acquired the paperback rights. All in all, it was a great experience to have with the first novel I ever worked on, made all the better by Dan Halpern's generosity toward my author. To me, it is truly fitting that Dan will receive the later iteration of the Maxwell Perkins Prize. I look forward to congratulating him in person.
To broaden the connections to my professional life, when I ran Undercover Books, my bookstores in Cleveland, one of the first successful literary books we sold was A. Scott Berg's biography, Maxwell Perkins: Editor of Genius, more recently a popular movie with Colin Firth as the Scribner's Editor-in-Chief, and Jude Law as Thomas Wolfe.
* As Editor-in-Chief of Scribner in the 1920s-40s, Perkins edited and published novels by F. Scott Fitzgerald, Ernest Hemingway, Thomas Wolfe, and Marjorie Kinnan Rawlings, among many acclaimed authors.
http://philipsturner.com/wp-content/uploads/2015/06/Suite-for-Calliope-300x233.jpg
233
300
Philip Turner
http://philipsturner.com/wp-content/uploads/2016/11/GGB_Logo.png
Philip Turner
2015-06-04 15:30:00
2018-04-02 12:21:42
Saluting Daniel Halpern, Venerable Champion of Fiction Writers