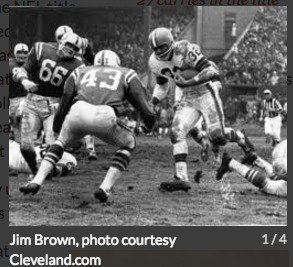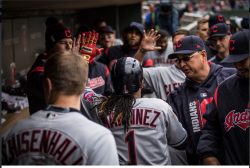 Not to be too woo-woo about being a Cleveland sports fan, but over the past year the Tribe and CAVs do seem to win in sometimes uncanny tandem. I'll first cite the Indians' 14-game winning streak last June, mounted during the same few weeks the CAVs were storming through the Eastern Conference of the NBA, on their way to meeting Golden State in the finals, when for the first time in league history, a team—the CAVS—overcame a 3-games-to-1 deficit. They won the franchise's first NBA title,* and the city's first pro sports championship in 52 years.**
So, early in the first weeks of the new baseball season, the pattern seems to be holding. Yesterday, the following sports event occurred over the span of about six hours:
In the afternoon the Indians overcame a 2-0 deficit in the late innings to beat the Twins, 6-2, thus sweeping a series on the road in Minnesota, 3-0.
Last night, as is being widely reported in sports and general media today, the CAVs pulled off a parallel, yet far more remarkable feat.
On the road, in Indianapolis, up 2-0 in a best-of-7 series versus the Pacers—after trailing by as much as 26 points in the 2nd quarter, and 25 at halftime—they outscored the Pacers 70-40 in the 2d half and won the game 119-114, to go up 3-0 in their first round playoff series. This, it turns out was, the greatest 2nd half comeback in playoff history.
* When the CAVs began as an NBA expansion team in 1970, I was a teenager, and in their inaugural season began attending games with my father and two siblings at the ratty old Cleveland Arena.  They were lovable losers (mostly) in those days. In their 46 years as an organization the CAVs had some very good teams and great players, with deep runs into the NBA playoffs many times, though they had lost both of their previous Finals trips, in 2008 and 2015, making the comeback versus the Warriors in 2016 so very special.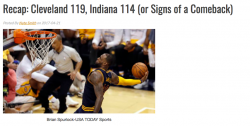 ** Seeing the CAVs win the NBA title last June was especially sweet, because I had attended the game the last time a Cleveland team won a pro sports title. That was in 1964, when the Cleveland Browns defeated the Baltimore Colts 27-0 to win the NFL championship, then pro football's ultimate crown, two years before the first Super Bowl was played. Here's a blog post I wrote about that game. I was ten years old.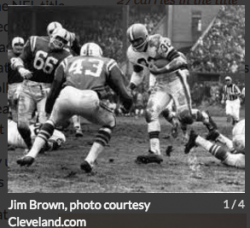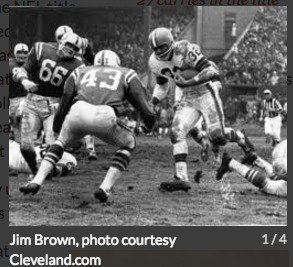 http://philipsturner.com/wp-content/uploads/2017/04/Screen-Shot-2017-04-21-at-4.57.57-PM.png
267
293
Philip Turner
http://philipsturner.com/wp-content/uploads/2016/11/GGB_Logo.png
Philip Turner
2017-04-21 17:03:13
2017-04-22 09:59:48
Tribe and Cavs Bringing a Potent One-Two Punch