The renaissance man of Americana presents an ambitious folk opera set in the American west of the 1880s
A few weeks ago, this article in the Guardian caught my eye: Tom Russell: The Rose of Roscrae, A Ballad of the West review – a brave and original epic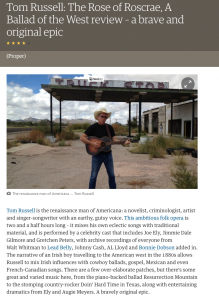 I'd seen country singer Tom Russell once, in the 90s at the old Rodeo Bar on Third Ave at 28th St. Last night I had the privilege of hearing him again at a Chelsea venue called Midtown Live, which is booking some great acts these days. These many years later, Russell—cowboy singer, songwriter, renaissance man of the modern West—was playing songs from his new folk opera, recently released in a two-disc CD, "The Rose of Roscrae," a capacious 52-track assemblage that charts the life journey of a historical figure named Johnny Dutton—and Russell's imaginative extension of the character, "Johnny Behind the Deuce." Based on what I read in the book that accompanies the CD, at sixteen, in 1880, Dutton fled Ireland after his girlfriend's father forbade his courting her. The incident prompts this stanza in the title song, after which Johnny heads for the American West,
Now I can feel her father's fists/As he knocked me 'cross the stable floor/And I left my blood and tears behind me/As I walked all night from Roscrae to Templemore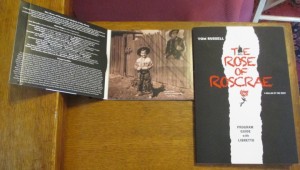 The Guardian piece has more details, and the video in the post below this one shows an actual rehearsal of "The Rose of Roscrae."  They make it quite a proper revue, with dance movements, fancy rope tricks, and multiple-part harmonies.
"The Rose of Roscrae" makes a fair bid to be an historical epic, sketched in the green hues of Ireland and the dusty tones of cowboy country, with great musicianship and vocals. I was really pleased to discover that apart from the many songs that Russell wrote—performed here with a large and illustrious ensemble—has also found much precious archival sound that fits the theme: decades-old songs performed by Lead Belly, Moses "Clear Rock" Platt, Johnny Cash, and Jack Hardy.There's even scratchy sound of a near-contemporary of Walt Whitman reading the bard's poem "America." Russell shows his folklorist/song and sound collector side to great effect. Other songs include the voices of Ramblin' Jack Elliott, Jimmie Dale Gilmore, Guy Clark, Ian Tyson, Eliza Gilkyson, and Bonnie Dobson. The package also includes an illuminating 82-page book with the libretto, bios of the players, and Russell's notes on the songs, which I read late last night, long after the concert ended.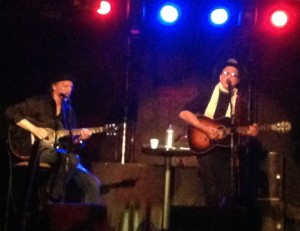 Readers of my blogs may recall my affinity for Marc Berger's concept album "Ride," a kind of cousin to this work by Russell. In 2013 I wrote about Berger's work here. I'm sure both writers have been inspired by Edward Abbey, a kind of Beat figure of the mid-century American West. Relatedly, I see a connection to some great movies, 1) "Treasure of the Sierra Madre," which I wrote about here; and 2) the 1962 Kirk Douglas film, "Lonely Are the Brave," where he plays a latter day cowboy unable to live in or with modern society. It was based on  Brave Cowboy, a novel by A.B. Guthrie, who of course wrote the great modern western The Big Sky, about mountain man Boone Caudill. Kirk Douglas also played the lead role in the 1952 adaptation of The Big Sky.
http://philipsturner.com/wp-content/uploads/2015/05/IMG_3075.jpg
554
720
Philip Turner
http://philipsturner.com/wp-content/uploads/2016/11/GGB_Logo.png
Philip Turner
2015-05-02 15:52:40
2016-08-29 09:24:49
Tom Russell's "The Rose of Roscrae," a Rich Evocation Braiding Ireland & the American West