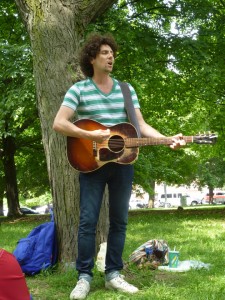 Jeremy Fisher isn't a big person, but the singer-songwriter sure makes a big sound. It'd be hard to imagine more music coming from any other solo player. Along with his voice, his primary instrument is a weathered Gibson LG-2 guitar from which he punches out a great, full sound. His bright singing voice offers a lot of welcome contrast with that percussive Gibson, since I suspect it falls somewhere between the tenor and alto range. The lyrics he sings are deeply felt declarations that carry a personal, even existential quality.
I highly recommend all of Jeremy's music, and particularly, his latest album, "Mint Juleps,"  a recording with five originals written by Jeremy and  covers of seven songs by such artists as Gordon Lightfoot, John Hiatt, and Greg Brown. Fisher makes each song his own in such a way that until I studied the album sleeve, I wasn't sure which songs were his and which were the covers. "Spin, Spin, Spin" is a rare Gordon Lightfoot song, in that it hasn't been sung by lots of other artists already. In a recent phone interview, Jeremy told me that was one of the reasons he chose it for the record. He said he wanted songs to which he knew he could add something new. That is certainly the case with Greg Brown's ode to the bounty of summer, "Canned Goods," about the pickles, tomatoes, and fruits his dear grandma put up for canning when he was a boy.
One of the highlights of attending the North by Northeast (NXNE) festival in Toronto in June was finally hearing Jeremy perform live. I had heard him on CBC Radio 3 many times, enjoying such songs as "Shine a Little Light" and "Jolene" (not Dolly Parton's song of the same name) but I was unprepared for how bright, funny, and charismatic he is as a live performer. That week I heard him play at the Dakota Tavern showcase** hosted by his label Hidden Pony, and at the picnic hosted by CBC Radio 3 host and author Grant Lawrence, where I took this outdoor photo.
The title of the new album is not meant to remind listeners of the Kentucky Derby, or anything about America's Old South. This Canadian composer wanted to evoke lazy summer days, or as he told me, "the kind of record I'd like to listen to while making brunch on a Sunday morning, or having a drink on a Friday afternoon." He said he's been playing other people's songs ever since he started joining bands as a kid, playing songs by Canadian super-groups Blue Rodeo and the Tragically Hip. and later Beatles and Motown covers. They were the "starting point" for him as a songwriter. For the new album he played solo versions of the songs he'd decided to record and emailed the sound files to the musicians he'd asked to accompany him. This group included such standout Canadian musicians as Joey Wright, whose 2011 album "Hatch" I enjoy a lot. Adding a nice tough here, Wright plays guitar, mandolin, and tenor guitar. Based on his rough work-up, Jeremy told his musical recruits, "this is the feel I want, but I want fresh ideas every take. . . . I wanted the personalities of the players to shine through."
The new album was engineered my Mark Ouimet, who also plays percussion and sings on several numbers. Among many favorite songs on the album, I'm especially enjoying "If It's Alright With You,' written by Gene MacClellan, which sports a great harmonica riff played by Jeremy himself. Listening to Jeremy Fisher's latest recording of his favorite songs during this sweltering summer of 2012 one is left with an unmistakable impression of hearing a latter day Buddy Holly, a forgotten sibling to the Everly Brothers, or maybe Paul Simon. Even with all those classic rock and pop associations, which are not a stretch, Jeremy's an original talent with a great feel for song–I recommend you listen to him for yourself.
**That Dakota showcase where I heard Jeremy Fisher also featured Erin Passmore, the Danks, Elephant Stone, and Rah Rah, each also clients of Hidden Pony. All five acts–including Jeremy who followed Erin–played great that night. Click here to view 15 of the photos I took during the showcase.
http://philipsturner.com/wp-content/uploads/2016/11/GGB_Logo.png
0
0
Philip Turner
http://philipsturner.com/wp-content/uploads/2016/11/GGB_Logo.png
Philip Turner
2012-08-14 16:18:47
2012-08-27 15:13:56
Jeremy Fisher, True Troubador