Glad I had the chance to support Harvey Wang's upcoming book of photo history FROM DARKROOM TO DAYLIGHT @Kickstarter http://t.co/f66e7Ke9PR

— Philip Turner (@philipsturner) July 23, 2014
Harvey Wang is a photographer I admire, whose 2011 exhibit at the Lower East Side Tenement Museum I covered for this blog.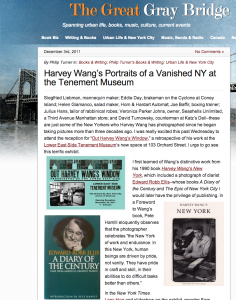 Wang had told me about a book he's writing that chronicles the transition in photography from the darkroom era to the digital age we're in now, and today I was glad to learn of a Kickstarter campaign he's running to support publication of the book, which I tweeted about after contributing. Below, you can view a video about the book, and contribute to the Kickstarter via this link. The campaign is running one more week, until July 30.